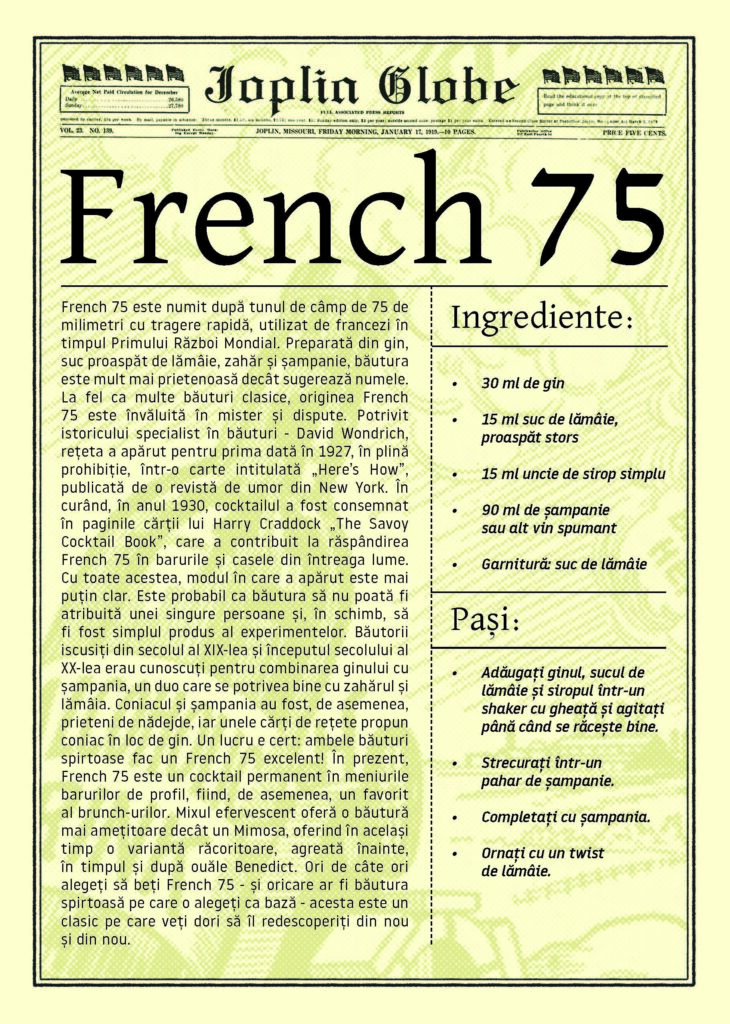 FRENCH 75
French 75 is named after the 75-millimeter rapid-firing field gun used by the French during World War I. Made with gin, fresh lemon juice, sugar, and champagne, the drink is much friendlier than its name suggests. Like many classic cocktails, the origin of the French 75 is shrouded in mystery and disputes. According to drinks historian David Wondrich, the recipe first appeared in 1927, during Prohibition, in a book titled "Here's How," published by a humor magazine in New York. Soon after, in 1930, the cocktail was recorded in the pages of Harry Craddock's "The Savoy Cocktail Book," which contributed to the spread of the French 75 in bars and homes around the world. However, the way it originated is less clear. It is likely that the drink cannot be attributed to a single person and instead was simply the product of experimentation. Skilled drinkers from the 19th and early 20th centuries were known to combine gin with champagne, a duo that paired well with sugar and lemon. Brandy and champagne were also reliable friends, and some recipe books suggest brandy instead of gin. One thing is for sure: both spirits make an excellent French 75! Today, French 75 is a permanent cocktail on the menus of specialty bars, and is also a favorite of brunches. The effervescent mix provides a more dizzying drink than a Mimosa, while also offering a refreshing option, enjoyed before, during, and after Eggs Benedict. Whenever you choose to drink French 75 – and whatever spirit you choose as a base – this is a classic that you will want to rediscover again and again.
Ingredients:
30 ml gin
15 ml fresh squeezed lemon juice
15 ml simple syrup
90 ml champagne or other sparkling wine
Garnish: lemon twist
Steps:
Add gin, lemon juice, and simple syrup to a shaker with ice and shake well to chill.
Strain into a champagne glass.
Top with champagne.
Garnish with a lemon twist.
---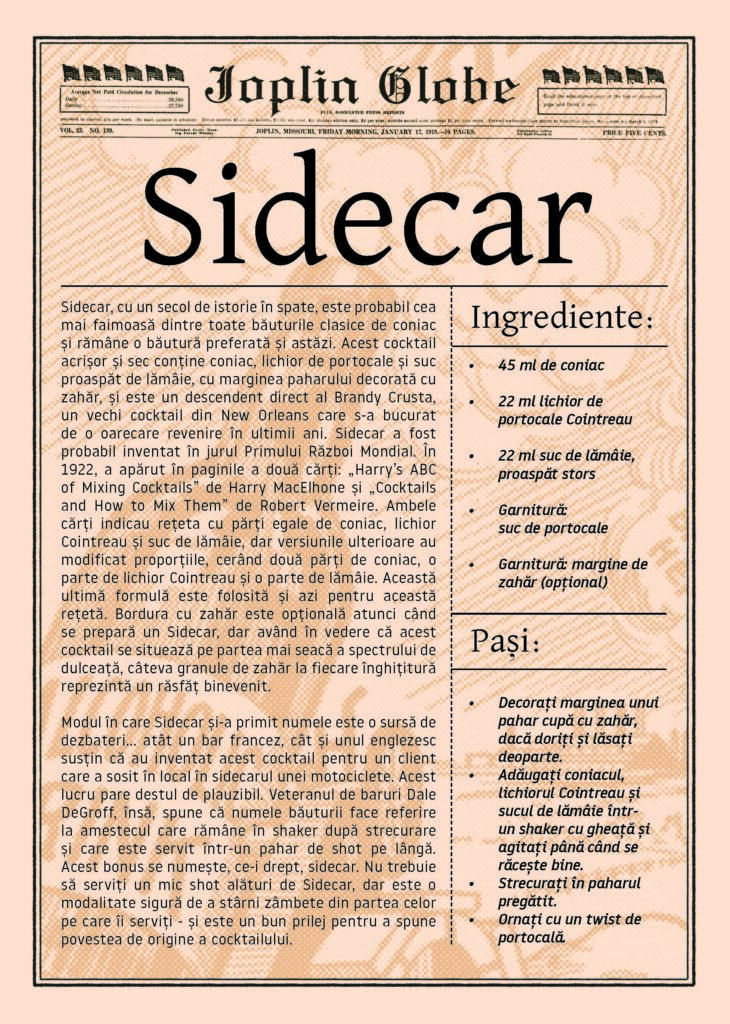 SIDECAR
Sidecar, with a century of history behind it, is probably the most famous of all classic cognac drinks and remains a favorite today. This tart and dry cocktail contains cognac, orange liqueur, and fresh lemon juice, with the glass rim decorated with sugar, and is a direct descendant of the Brandy Crusta, an old cocktail from New Orleans that has enjoyed some resurgence in recent years. Sidecar was probably invented around the time of World War I. In 1922, it appeared in the pages of two books: "Harry's ABC of Mixing Cocktails" by Harry MacElhone and "Cocktails and How to Mix Them" by Robert Vermeire. Both books indicated the recipe with equal parts of cognac, Cointreau liqueur, and lemon juice, but later versions have modified the proportions, calling for two parts cognac, one part Cointreau liqueur, and one part lemon. This last formula is used today for this recipe. The sugar rim is optional when making a Sidecar, but given that this cocktail sits on the drier side of the sweetness spectrum, a few grains of sugar with each sip represent a welcome indulgence.
The way Sidecar got its name is a source of debate… both a French and an English bar claim to have invented this cocktail for a client who arrived at the bar in the sidecar of a motorcycle. This seems quite plausible. Bar veteran Dale DeGroff, however, says that the name of the drink refers to the mixture that remains in the shaker after straining and which is served in a shot glass alongside. This bonus is called, rightly, a sidecar. You don't have to serve a small shot alongside Sidecar, but it's a surefire way to elicit smiles from those you serve it to – and it's a good opportunity to tell the origin story of the cocktail.
Ingredients:
45 ml cognac
22 ml Cointreau orange liqueur
22 ml fresh squeezed lemon juice
Garnish: orange twist
Garnish: sugar rim (optional)
Steps:
Rim the edge of a coupe glass with sugar, if desired, and set aside.
Add cognac, Cointreau liqueur, and lemon juice to a shaker with ice and shake until well chilled.
Strain into the prepared glass.
Garnish with an orange twist.
---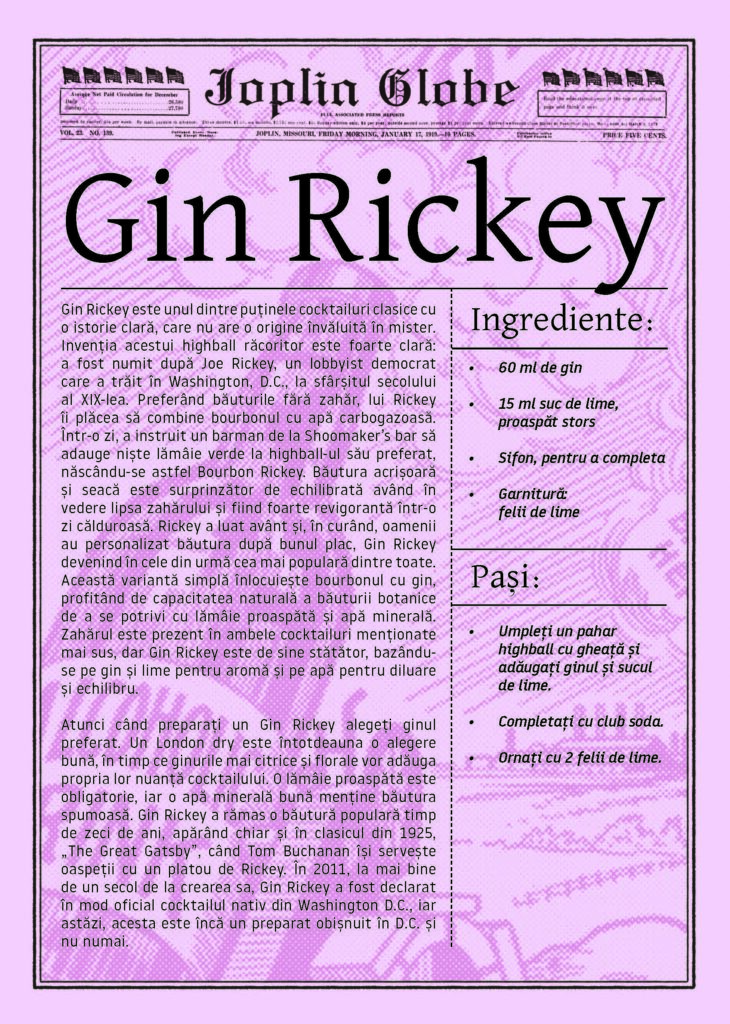 GIN RICKEY
The Gin Rickey is one of the few classic cocktails with a clear history that does not have an origin shrouded in mystery. The invention of this refreshing highball is very clear: it was named after Joe Rickey, a Democratic lobbyist who lived in Washington, D.C. at the end of the 19th century. Preferring drinks without sugar, Rickey liked to combine bourbon with carbonated water. One day, he instructed a bartender at Shoomaker's bar to add some green lime to his favorite highball, thus giving birth to Bourbon Rickey. The tart and dry drink is surprisingly well-balanced considering the absence of sugar and is very refreshing on a hot day. The Rickey gained momentum and soon people customized the drink to their liking, with the Gin Rickey eventually becoming the most popular of all. This simple variant replaces bourbon with gin, taking advantage of the natural ability of the botanical drink to complement fresh lime and mineral water. Sugar is present in both aforementioned cocktails, but the Gin Rickey stands on its own, relying on gin and lime for flavor and water for dilution and balance.
When preparing a Gin Rickey, choose your favorite gin. A London dry is always a good choice, while more citrusy and floral gins will add their own nuance to the cocktail. Fresh lime is mandatory, and good mineral water keeps the drink bubbly. The Gin Rickey remained a popular drink for decades, even appearing in the classic 1925 novel "The Great Gatsby" when Tom Buchanan serves his guests a tray of Rickeys. In 2011, more than a century after its creation, the Gin Rickey was officially declared the native cocktail of Washington, D.C., and today it is still a common drink in D.C. and beyond.
Ingredients:
60 ml gin
15 ml freshly squeezed lime juice
Soda water, to top
Garnish: lime slices
Steps:
Fill a highball glass with ice and add the gin and lime juice.
Top with club soda.
Garnish with 2 lime slices.
---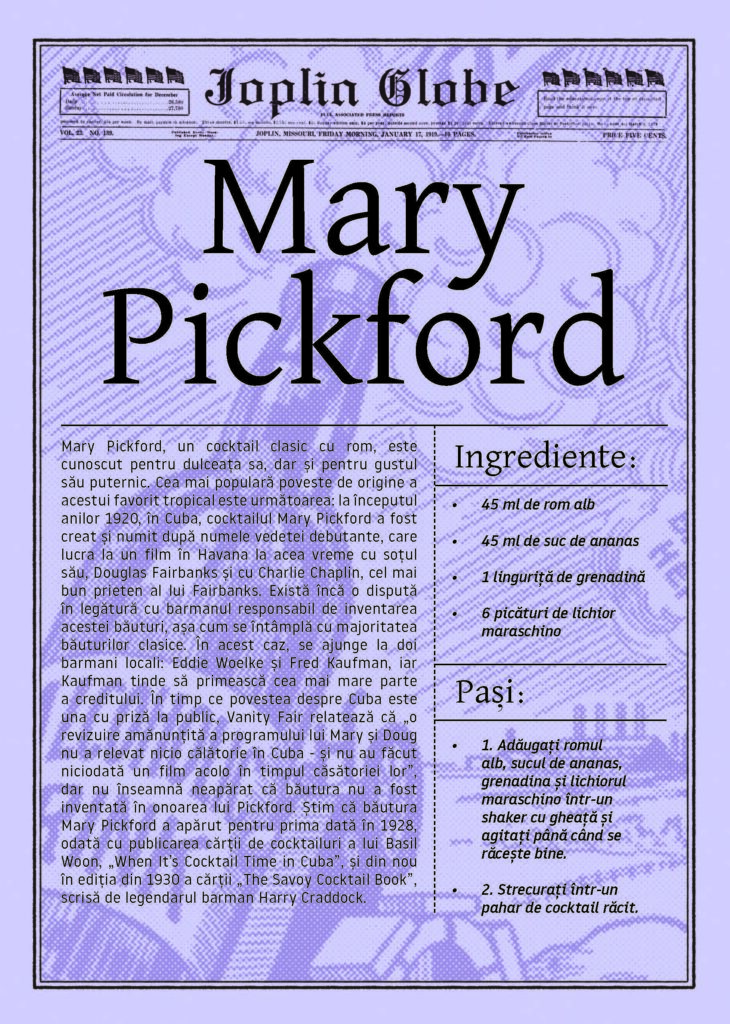 MARY PICKFORD
Mary Pickford, a classic rum cocktail, is known for its sweetness as well as its strong taste. The most popular origin story of this tropical favorite is as follows: in the early 1920s, in Cuba, the Mary Pickford cocktail was created and named after the debutante star who was working on a film in Havana at the time with her husband, Douglas Fairbanks, and with Charlie Chaplin, Fairbanks' best friend. There is still a dispute as to which bartender is responsible for inventing this drink, as is the case with most classic cocktails. In this case, it comes down to two local bartenders: Eddie Woelke and Fred Kaufman, with Kaufman tending to receive the most credit. While the story about Cuba is one that resonates with the public, Vanity Fair reports that "a thorough review of Mary and Doug's itinerary revealed no trips to Cuba – and they never made a film there during their marriage," but that doesn't necessarily mean the drink wasn't invented in Pickford's honor. We know that the Mary Pickford drink first appeared in 1928, with the publication of Basil Woon's cocktail book, "When It's Cocktail Time in Cuba," and again in the 1930 edition of "The Savoy Cocktail Book," written by legendary bartender Harry Craddock.
Ingredients:
45 ml white rum
45 ml pineapple juice
1 teaspoon grenadine
6 drops of maraschino liqueur
Steps:
Add white rum, pineapple juice, grenadine, and maraschino liqueur to a shaker with ice and shake well until chilled.
Strain into a chilled cocktail glass.
---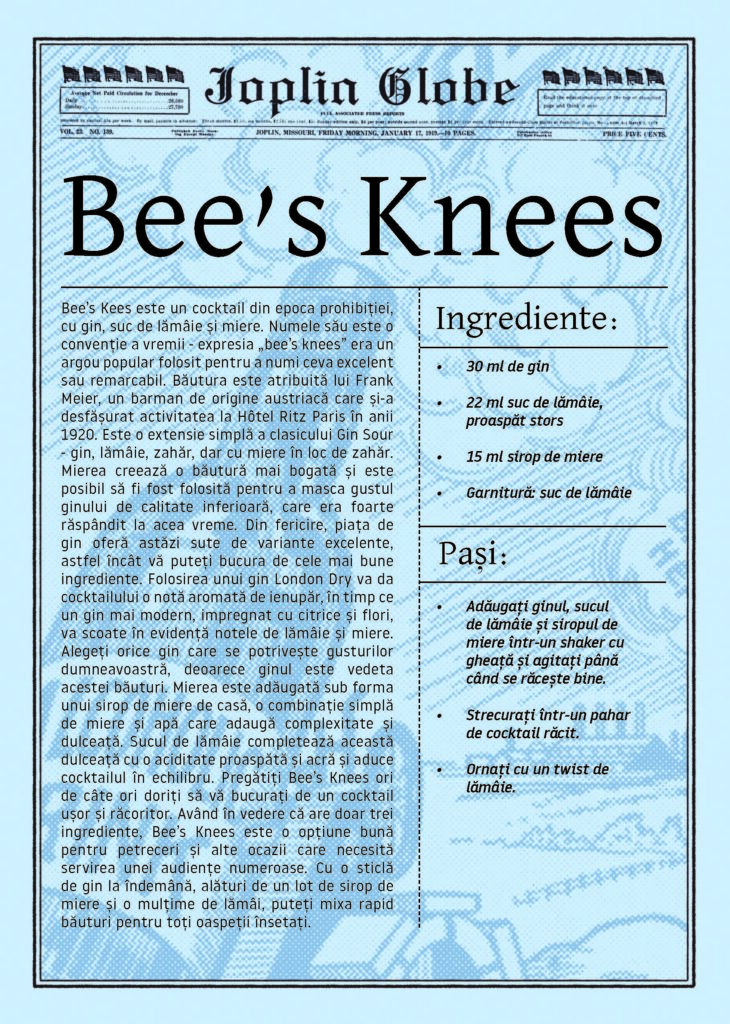 BEE'S KNEES
Bee's Knees is a Prohibition-era cocktail made with gin, lemon juice, and honey. Its name is a convention of the time – the phrase "bee's knees" was a popular slang term used to refer to something excellent or remarkable. The drink is attributed to Frank Meier, an Austrian bartender who worked at the Hôtel Ritz Paris in the 1920s. It is a simple extension of the classic Gin Sour – gin, lemon, sugar, but with honey instead of sugar. Honey creates a richer drink and may have been used to mask the taste of inferior quality gin, which was very common at that time. Fortunately, today's gin market offers hundreds of excellent variants, so you can enjoy the best ingredients. Using a London Dry gin will give the cocktail a juniper aroma, while a more modern gin, infused with citrus and flowers, will highlight the lemon and honey notes. Choose any gin that suits your taste, as gin is the star of this drink. Honey is added in the form of a homemade honey syrup, a simple combination of honey and water that adds complexity and sweetness. Lemon juice complements this sweetness with fresh acidity and brings the cocktail into balance. Prepare Bee's Knees whenever you want to enjoy a light and refreshing cocktail. Considering that it has only three ingredients, Bee's Knees is a good option for parties and other occasions that require serving a large audience. With a bottle of gin at hand, along with a batch of honey syrup and plenty of lemons, you can quickly mix drinks for all thirsty guests.
Ingredients:
30 ml gin
22 ml fresh lemon juice
15 ml honey syrup
Garnish: lemon twist
Steps:
Add gin, lemon juice, and honey syrup to a shaker with ice and shake until well chilled.
Strain into a chilled cocktail glass.
Garnish with a lemon twist.
---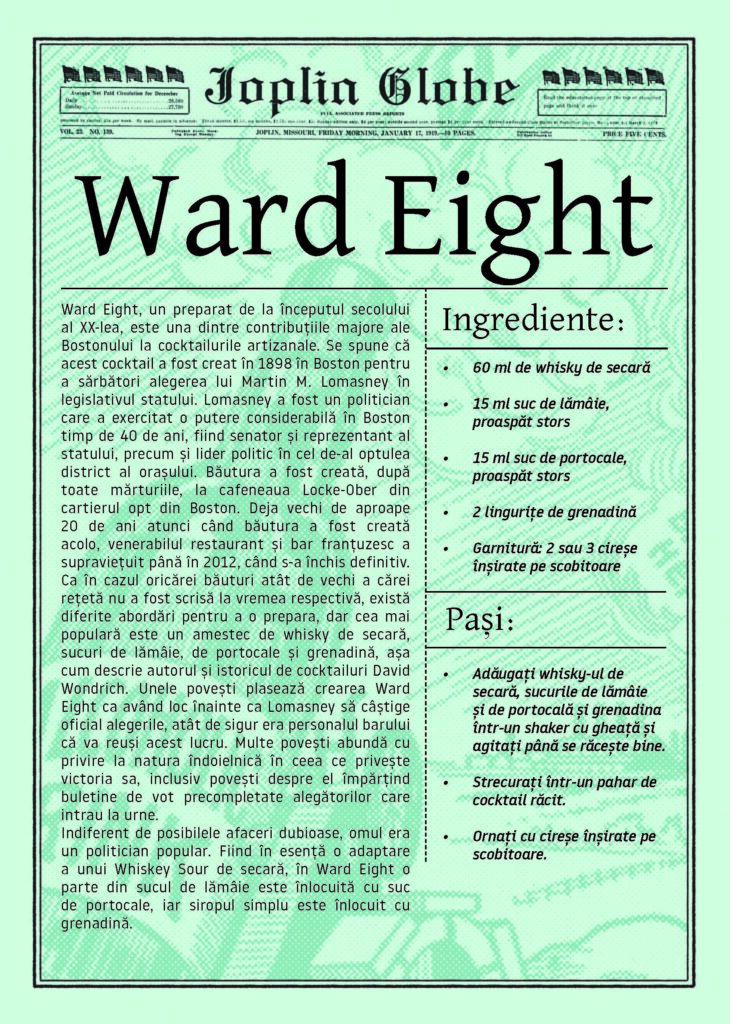 WARD EIGHT
Ward Eight, a cocktail from the early 20th century, is one of Boston's major contributions to artisanal cocktails. It is said that this cocktail was created in 1898 in Boston to celebrate the election of Martin M. Lomasney to the state legislature. Lomasney was a politician who wielded considerable power in Boston for 40 years, serving as a state senator and representative, as well as a political leader in the city's eighth district. The drink was created, according to all accounts, at the Locke-Ober café in Boston's eighth ward. The venerable French restaurant and bar had been around for nearly 20 years by the time the drink was created there, and survived until 2012 when it closed for good. As with any drink that is so old and whose recipe was not written down at the time, there are different approaches to preparing it, but the most popular is a mixture of rye whiskey, lemon and orange juices, and grenadine, as described by cocktail author and historian David Wondrich. Some stories place the creation of the Ward Eight before Lomasney officially won the election, such was the bar staff's confidence that he would succeed. Many stories abound about the dubious nature of his victory, including tales of him handing out pre-filled ballots to voters entering the polls.
Regardless of the possible shady dealings, the man was a popular politician. Essentially an adaptation of a rye whiskey sour, in the Ward Eight, some of the lemon juice is replaced with orange juice, and simple syrup is replaced with grenadine.
Ingredients:
60 ml rye whiskey
15 ml fresh-squeezed lemon juice
15 ml fresh-squeezed orange juice
2 teaspoons grenadine
Garnish: 2 or 3 cherries on a cocktail pick
Steps:
Add the rye whiskey, lemon and orange juices, and grenadine to a shaker with ice and shake until well chilled.
Strain into a chilled cocktail glass.
Garnish with cherries on a cocktail pick.
---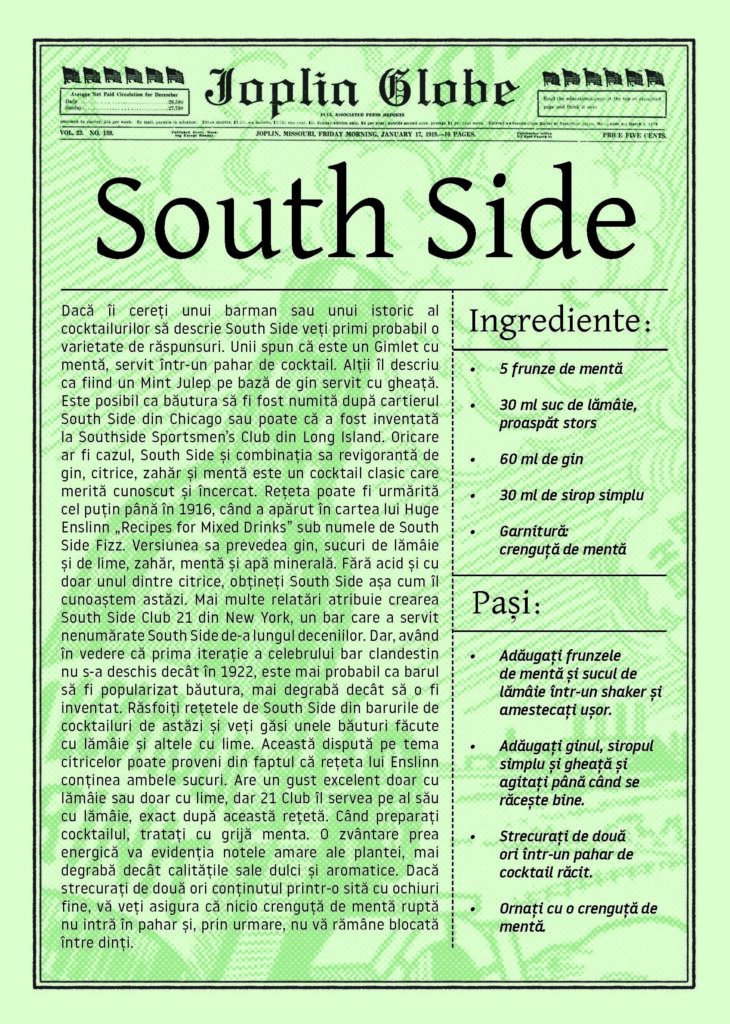 SOUTH SIDE
If you ask a bartender or a cocktail historian to describe the South Side, you will likely get a variety of answers. Some say it's a Mint Gimlet served in a cocktail glass, while others describe it as a gin-based Mint Julep served on the rocks. The drink may have been named after the South Side neighborhood of Chicago or perhaps invented at the Southside Sportsmen's Club in Long Island. Either way, the South Side and its refreshing combination of gin, citrus, sugar, and mint is a classic cocktail that is worth knowing and trying.
The recipe can be traced back at least to 1916 when it appeared in Huge Enslinn's "Recipes for Mixed Drinks" under the name South Side Fizz. His version called for gin, lemon and lime juice, sugar, mint, and mineral water. Without the acid and with just one of the citrus fruits, you get the South Side as we know it today.
Several reports attribute the creation of the South Side to Club 21 in New York, a bar that served countless South Sides over the decades. But since the first iteration of the famous speakeasy didn't open until 1922, it is more likely that the bar popularized the drink rather than inventing it.
When preparing the cocktail, handle the mint with care. Too vigorous a muddle will bring out the plant's bitter notes rather than its sweet and aromatic qualities. If you double strain the contents through a fine mesh strainer, you'll ensure that no broken mint leaves end up in the glass and, therefore, won't get stuck between your teeth.
Ingredients:
5 mint leaves
30 ml freshly squeezed lemon juice
60 ml gin
30 ml simple syrup
Garnish: mint sprig
Steps:
Add the mint leaves and lemon juice to a shaker and gently muddle.
Add gin, simple syrup, and ice and shake until well chilled.
Double strain into a chilled cocktail glass.
Garnish with a mint sprig.
---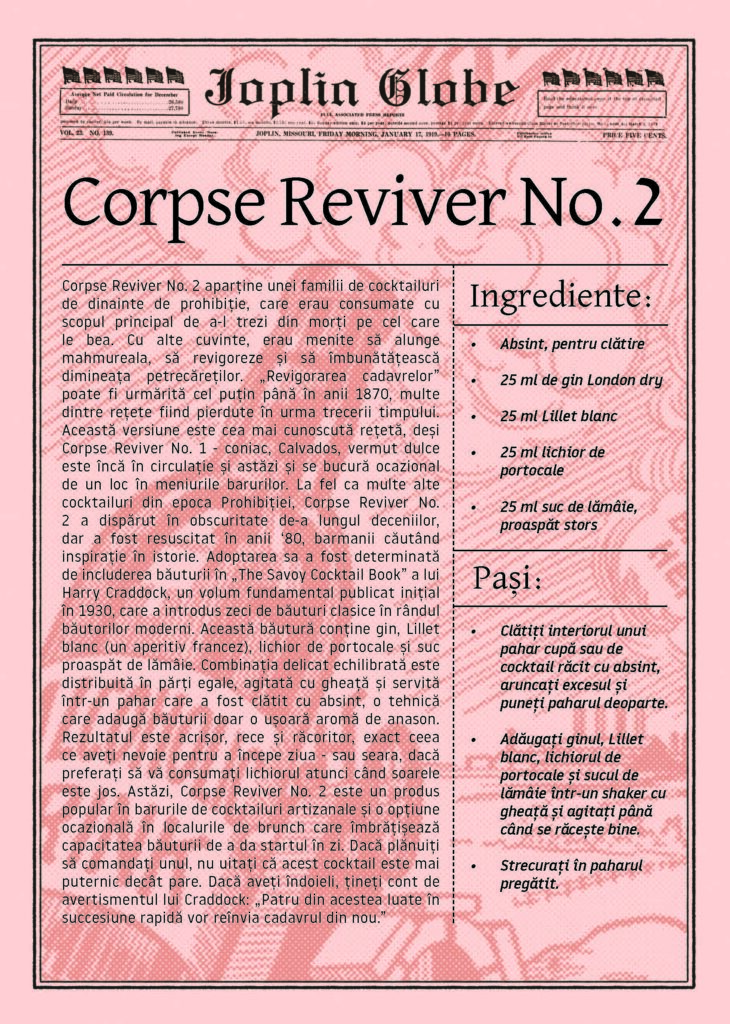 CORPSE REVIVER NO. 2
Corpse Reviver No. 2 belongs to a family of pre-Prohibition cocktails that were consumed primarily to revive the person who drank them from the dead. In other words, they were intended to cure hangovers, invigorate, and improve the mornings of partygoers. "Reviving corpses" can be traced back to at least the 1870s, with many of the recipes lost over time. This version is the most well-known recipe, although Corpse Reviver No. 1 – brandy, Calvados, sweet vermouth – is still in circulation today and occasionally enjoys a place on bar menus. Like many other Prohibition-era cocktails, Corpse Reviver No. 2 disappeared into obscurity over the decades, but was revived in the 1980s as bartenders sought inspiration from history. Its adoption was driven by its inclusion in Harry Craddock's "The Savoy Cocktail Book," a seminal volume originally published in 1930 that introduced dozens of classic drinks to modern drinkers. This drink contains gin, Lillet blanc (a French aperitif), orange liqueur, and fresh lemon juice. The delicately balanced combination is distributed equally, shaken with ice, and served in a glass that has been rinsed with absinthe, a technique that adds only a slight anise flavor to the drink. The result is tart, cold, and refreshing, exactly what you need to start your day – or evening, if you prefer to consume your liquor when the sun is down. Today, Corpse Reviver No. 2 is a popular offering in craft cocktail bars and an occasional option in brunch spots that embrace the drink's ability to jumpstart your day. If you plan to order one, don't forget that this cocktail is stronger than it seems. If in doubt, heed Craddock's warning: "Four of these taken in quick succession will unrevive the corpse again."
Ingredients:
Absinthe, for rinsing
25 ml London dry gin
25 ml Lillet blanc
25 ml orange liqueur
25 ml fresh squeezed lemon juice
Steps:
Rinse the interior of a chilled coupe or cocktail glass with absinthe, discard the excess, and set the glass aside.
Add gin, Lillet blanc, orange liqueur, and lemon juice to a shaker with ice and shake until well chilled.
Strain into the prepared glass.