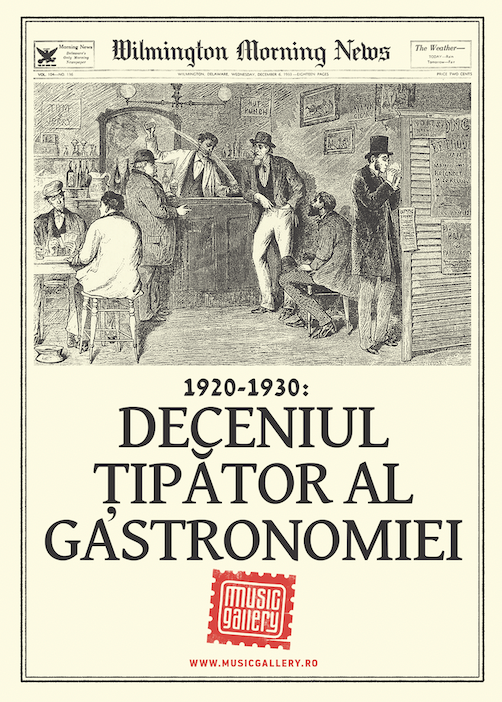 1920-1930: The roaring decade of gastronomy
The economy was doing very well, at least until the last three months of the decade. Young people danced the Charleston to hot jazz rhythms, speakeasies became increasingly popular as some people looked for ways to circumvent Prohibition, and movies got voices.
In gastronomy, things were improving. Scientists were busy researching vitamins, and consumers were eating more fruits, more vegetables, and more milk as a result. And technology was catching up with these trends too. Farms were producing more than ever before, and the food preservation process, which had been perfected during World War I, now made products accessible throughout the country in all seasons.
And when Clarence Birdseye invented a way to freeze food in 1922, people could eat foods brought from everywhere that still tasted fresh.
On the other hand, Baby Ruth bars and Wonder Bread were invented in 1920, candy appeared in 1924, Hostess and Kool-Aid cakes began to be produced in 1927, and Velveeta cheese was introduced in 1928. So Americans were becoming healthier, but at the same time, they were not.
---
CHICKEN AND RICE WITH SAUCE
For 4 servings:
1 small chicken or enough chicken parts for four people
1 cup of uncooked rice
2 tablespoons of butter
2 tablespoons of all-purpose flour
1 cup of milk
1 cup of chicken broth
Salt
¼ teaspoon black pepper
1 beaten egg yolk
1 teaspoon of lemon juice
Chopped parsley
Steps:
Cook the chicken using your preferred method, but make sure the meat remains juicy when done. Cut it into small pieces.
Cook the rice according to the instructions on the package.
Meanwhile, melt the butter in a skillet over medium heat. Add the flour and cook, stirring constantly, until the mixture begins to bubble. Gradually add the milk and chicken broth and cook until it thickens and becomes smooth, stirring constantly. Add salt to taste and black pepper. Just before taking it off the heat, add the beaten egg yolk and lemon juice, stirring quickly.
If necessary, reheat the chicken in a little bit of sauce.
Serve the chicken in the sauce in the middle of a platter, surrounded by rice, with chopped parsley sprinkled on top.
Recipe extracted from "Mrs. Allen on Cooking, Menus, Service: 2,500 Recipes" by Ida Cogswell Bailey Allen, 1924
---
OVEN-BAKED RICE WITH MILANESE TOPPING
For 4 servings:
1 cup uncooked rice
2/3 cup grated cheese, such as cheddar
1/4 teaspoon paprika
1 tablespoon olive oil
1 small green bell pepper, finely chopped
2 tablespoons finely chopped onion
1 cup tomato sauce
2 hard-boiled eggs
Steps:
Preheat the oven to 190 degrees Celsius.
Cook the rice according to package directions. While still hot, add 1/2 cup of cheese and paprika.
Meanwhile, heat the olive oil in a small pan over medium heat. Add the green pepper and onion and sauté until soft, about three to five minutes. Add the pepper and onion to the rice mixture and transfer to a baking dish. Cover with the remaining 3 tablespoons of cheese.
Bake for 15 minutes. Pour tomato sauce on top or serve on the side and top with sliced hard-boiled eggs.
Adapted from "Mrs. Allen on Cooking, Menus, Service: 2,500 Recipes" by Ida Cogswell Bailey Allen, 1924
---
PROSPERITY SANDWICH
The Prosperity Sandwich was invented at the Mayfair Hotel in St. Louis as a reaction to the Depression and probably in response to President Hoover's assurances that "prosperity is just around the corner." However, the Prosperity Sandwich is related to the Hot Brown sandwich, which was undoubtedly created at the Brown Hotel in Louisville in 1926.
For 4 servings:
5 tablespoons of butter
240 g white mushrooms, cleaned and thinly sliced
1 shallot, finely chopped
½ teaspoon of salt
¼ cup of any type of flour
2 cups of milk
240 g shredded cheddar cheese
2 teaspoons Dijon mustard
2 teaspoons Worcestershire sauce
½ teaspoon black pepper
4 slices of white bread
240 g thinly sliced turkey
240 g thinly sliced ham
2 tomatoes, seeded and cut into 8 slices
Steps:
Melt 1 tablespoon of butter in a large saucepan over medium-high heat. Add the mushrooms, shallot, and salt and cook, stirring occasionally, until well browned, five to seven minutes. Transfer to a bowl.
Melt the remaining 4 tablespoons of butter (you can use the same saucepan) over medium heat. Incorporate the flour and cook for one minute. Slowly incorporate the milk and bring to a boil. Reduce the heat to low and cook, stirring occasionally, until thickened, four to six minutes. Remove the saucepan from the heat, stir in ½ cup of cheddar, mustard, Worcestershire sauce, and pepper, and set aside.
Adjust the oven rack to five centimeters from the broiler element and preheat the broiler. Line a baking sheet with parchment paper or aluminum foil and lightly spray with vegetable oil spray. Toast the bread slices in a toaster or arrange them on the prepared baking sheet and brown them until they are toasted, 1 ½ minutes per side.
Divide the mushroom mixture between the toasted bread slices. Place 60 g of turkey, 60 g of ham, and 2 tomato slices over the mushrooms on each toasted bread slice.
Evenly distribute ½ cup of cheese sauce over each sandwich and sprinkle with the remaining 1 ½ cups of cheddar. Broil until the cheese is browned, three to five minutes. Let cool for five minutes before serving.
Recipe from Cook's Country
---
ICEBOX CAKE
For 9 to 12 servings:
¼ cup of water
½ cup of sugar
60 g of finely chopped dark chocolate
4 eggs, separated
1 cup of melted butter
1 cup of powdered sugar
1 teaspoon of vanilla
About 24 ladyfingers
½ cup of heavy cream or store-bought whipped cream
Steps:
In a pot over low heat, mix water, sugar, and chocolate until smooth. Beat the egg yolks and add them to the chocolate mixture. Cook while stirring constantly for a minute, then remove from heat.
Using a mixer, beat the butter and slowly add the powdered sugar and vanilla. Add this butter mixture to the cooled chocolate.
In a clean bowl, beat the egg whites until stiff peaks form and gently fold them into the chocolate mixture.
Line a cake pan with parchment paper. Cut the ladyfingers in half lengthwise and line the edges of the pan with them. Arrange a layer of ladyfingers on the bottom. Add half of the cake mixture and smooth it out until level. Add another layer of ladyfingers and cover with the remaining cake mixture. Cover and refrigerate for at least a few hours until set.
Serve with whipped cream on top. If using store-bought whipped cream, you can add it before refrigerating. If making your own whipped cream, it's best to do it shortly before serving.
Adapted from "Bettina's Best Desserts" by Louise Bennett Weaver and Helen Cowles Le Cron, 1923
---
WHAT DO YOU GET WHEN YOU SEND AMERICANS UNDERGROUND TO CONSUME ALCOHOL? FINGER FOOD!
Ratified in 1919, the 18th amendment to the US Constitution prohibited the manufacture, sale, and transportation of alcoholic beverages. Just before the law came into effect in 1920, Congress adopted the Volstead Act, or the National Prohibition Act, which prohibited the sale of "intoxicating beverages" – defined as any drink containing at least 0.5% alcohol.
Of course, no legislation could turn all Americans into abstainers. Instead, Prohibition simply drove alcohol consumption underground. Millions of people in small and large cities continued to drink in secret taverns and bars called speakeasies. Although the exact origins of the term are unknown, it may have arisen because potential customers had to whisper, or "speak easy," through a small opening in the door to enter the illegal establishments, providing the name of the person who sent them. As law enforcement closed countless bars and saloons across the country, clandestine bars emerged overnight, and by 1925 tens of thousands had opened in New York alone. Many of them were improvised saloons in basements or in squalid areas of the city. However, some of them were upscale restaurants, including the luxurious Club 21 in New York, which had two bars, a dance floor, two levels of dining rooms, and underground passages leading to a secret wine cellar. To help absorb the alcohol and boost sales, some enterprising owners of speakeasies began offering more than just popular cocktails of the time. Instead of heavy meals, their drunken customers received assorted finger sandwiches, which they could eat while mingling in the noisy, crowded rooms of the illegal bars.
During this period, the trend of hosting cocktail parties at home also became fashionable. The emergence of these intimate events led to the popularization of a wide range of finger foods. Hosts prepared culinary delights such as lobster rolls, caviar rolls, crab meat cocktails, shrimp balls, oyster toast, anchovy aspic, radish roses, and savory cheese balls. Sweet selections included fruit cocktail cups topped with powdered sugar or meringues.
Even after the repeal of the 18th amendment in 1933, the practice of serving finger foods at restaurants and bars continued and quickly became a popular American culinary tradition. An excellent source of inspiration is Fannie Farmer's cookbook, "Boston Cooking-School Cook Book," published in 1918 and widely used in the United States in the 1920s.
A finger food menu for speakeasies
Bread and Butter
This easy-to-prepare sandwich requires only two ingredients: sliced white and black bread and butter. Simply cut the white and black bread into slices and place the darker slice between the white slices. Apply plenty of butter before putting them together.
Egg Sandwich
To prepare an egg sandwich, spread butter on two slices of bread and add hard-boiled eggs mixed with mayonnaise between them. Remove the crusts of the bread slices and cut them into different shapes. This sandwich was very popular in the clandestine bars of urban and rural areas in the 1920s. These snacks were served with preferred drinks such as gin, rum, and various cocktails.
Lobster Canapés
Canapés are bite-sized pieces of bread or pastry with a tasty topping. Lobster meat, hard-boiled eggs, melted butter, mustard, and sour cream are used to prepare this one. Season the mixture with paprika, salt, and pepper and spread it over the bread slices.
Stuffed Mushrooms
This snack may be better known in France than in the USA, but it is undoubtedly one of the most popular finger foods that the 1920s and speakeasies introduced to the world. This tasty appetizer mixes mushrooms with butter, garlic, shallots, and nuts, although you can also use other ingredients such as sausages and crab meat.
Oysters Rockefeller
This popular appetizer was created years before Prohibition and took advantage of oysters that could be obtained at low prices. This decadent appetizer was named after the richest man in the world, and oysters Rockefeller became an excellent dish that could always be paired with preferred beer or wine. As such, these oysters became a staple for parties in the 1920s and remain a favorite of speakeasy bistros.
Hoagies
This classic sandwich is a product that prides itself on its Italian origins. According to urban legend, in the 1920s, the wife of an Italian immigrant construction worker made a sandwich from sliced salami and ham, which she completed with salad, tomatoes, onion slices, and Italian sauce. When the Italian man took out the sandwich at lunch, a colleague named Hoagie asked if he could have one too. This incident sparked a business idea and a sandwich revolution, with the Italian man asking his wife to make a sandwich big enough to be shared by a crowd. Whether true or not, the Hoagies sandwich became a staple because it is easy to prepare and very filling.
Cheese Waffles
The recipe for cheese napoleons is included in Fannie Farmer's "Boston Cooking-School Cook Book," and it's easy to understand why. The modern recipe consists of rice cereal, a generous amount of grated and minced cheese, butter, flour, and spices. Although this could have been slightly different from the speakeasy food served during Prohibition, the snack proved to be one of the most appreciated and is still distributed as finger food at parties.