VINYL COVERS – GOLDEN AGE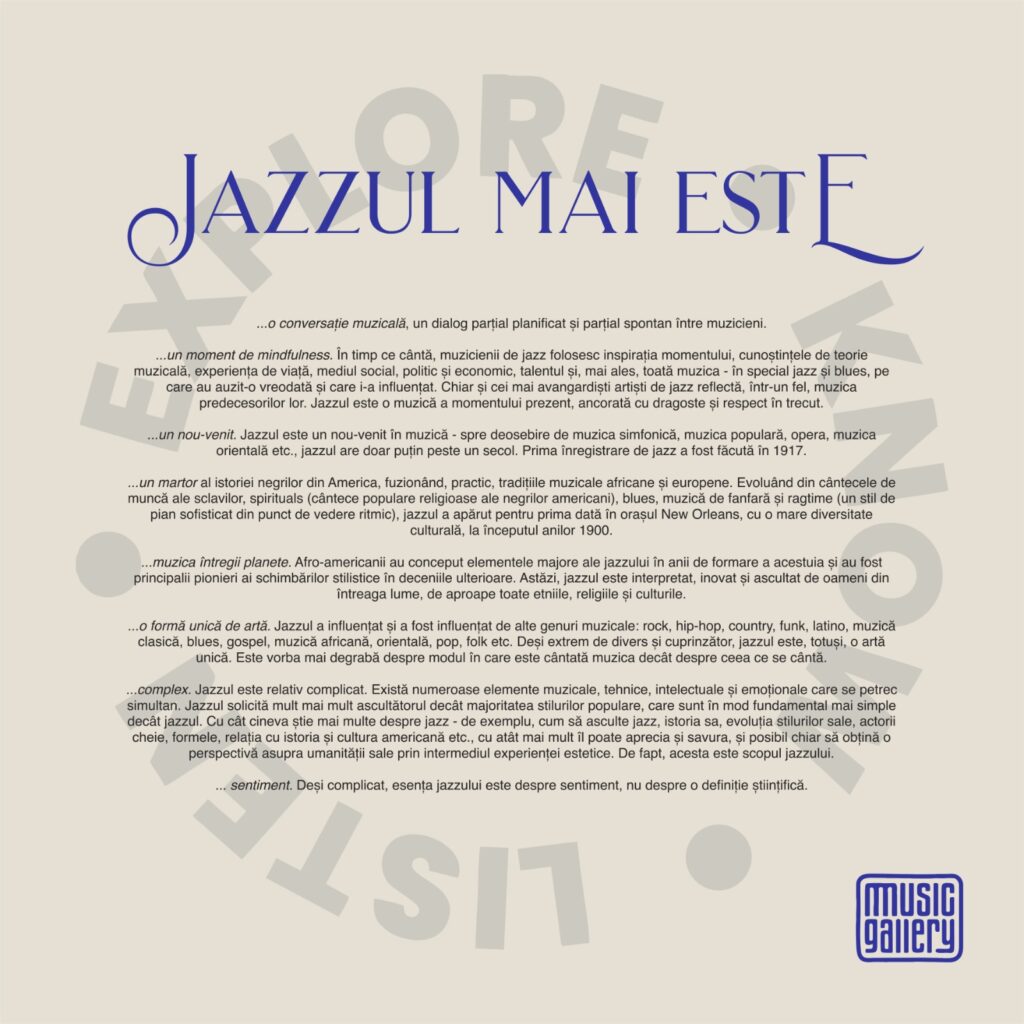 JAZZ IS ALSO…
…a musical conversation, a partially planned and partially spontaneous dialogue between musicians.
…a moment of mindfulness. While playing, jazz musicians use the inspiration of the moment, their knowledge of music theory, life experience, social, political, and economic environment, talent, and especially all the music – especially jazz and blues, they have ever heard and that influenced them. Even the most avant-garde jazz artists reflect, in a way, the music of their predecessors. Jazz is a music of the present moment, anchored with love and respect in the past.
…a newcomer. Jazz is a newcomer to music – unlike symphonic music, popular music, opera, oriental music, etc., jazz is just over a century old. The first jazz recording was made in 1917.
…a witness to the history of Black Americans, practically fusing African and European musical traditions. Evolving from the work songs of slaves, spirituals (popular religious songs of African Americans), blues, brass band music, and ragtime (a sophisticated rhythmic piano style), jazz first appeared in the culturally diverse city of New Orleans in the early 1900s.
…the music of the whole world. African Americans conceived the major elements of jazz during its formative years and were the main pioneers of stylistic changes in the decades that followed. Today, jazz is performed, innovated, and listened to by people from all over the world, of almost all ethnicities, religions, and cultures.
…a unique form of art. Jazz has influenced and been influenced by other musical genres: rock, hip-hop, country, funk, Latino, classical music, blues, gospel, African, Oriental, pop, folk, etc. Although extremely diverse and comprehensive, jazz is still a unique art form. It is more about how the music is played than what is played.
…complex. Jazz is relatively complicated. There are numerous musical, technical, intellectual, and emotional elements happening simultaneously. Jazz demands much more from the listener than most popular styles, which are fundamentally simpler than jazz. The more someone knows about jazz – for example, how to listen to jazz, its history, evolution of its styles, key players, forms, relationship to American history and culture, etc., the more they can appreciate and savor it, and possibly even gain a perspective on humanity through the aesthetic experience. In fact, that is the purpose of jazz.
…a feeling. Although complicated, the essence of jazz is about feeling, not a scientific definition.
---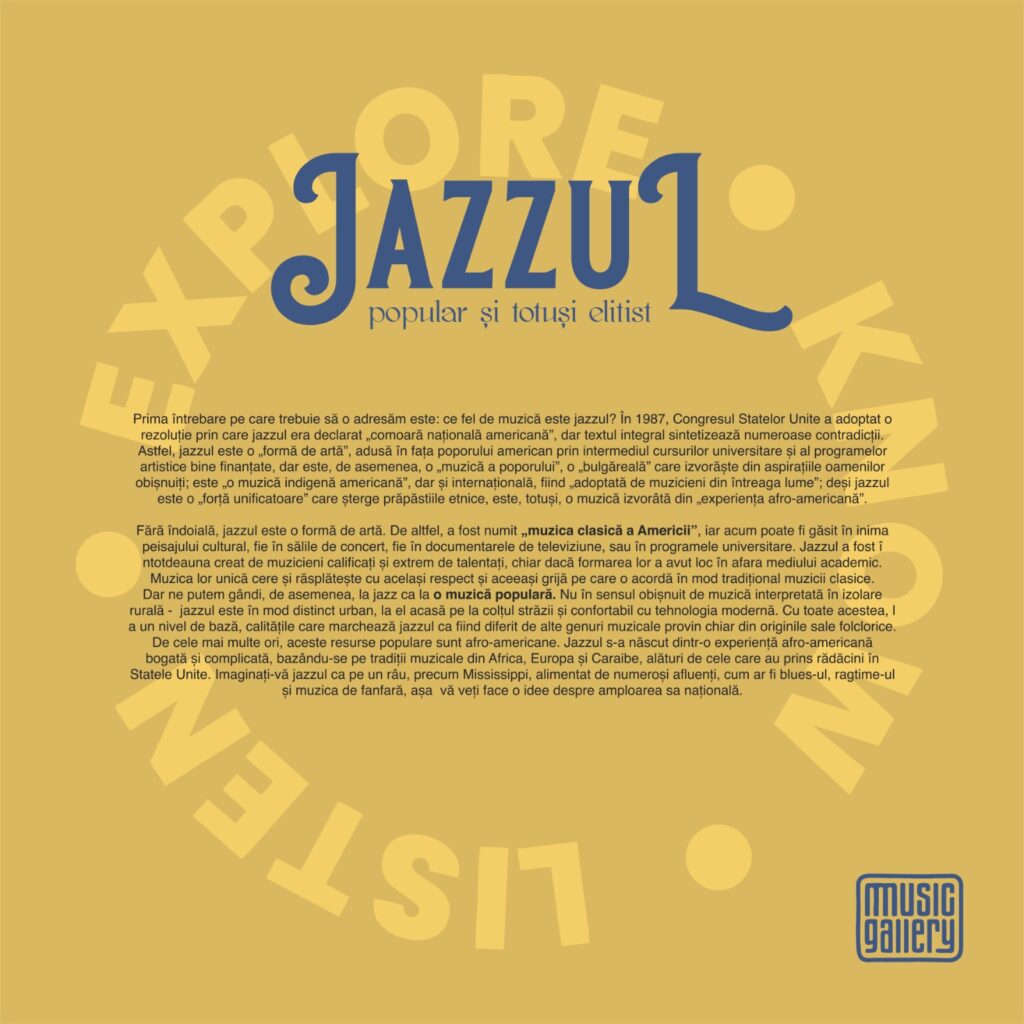 JAZZ, POPULAR YET ELITIST
The first question we must address is: what kind of music is jazz? In 1987, the United States Congress adopted a resolution declaring jazz as an "American national treasure", but the full text summarizes numerous contradictions. Thus, jazz is a "form of art", brought before the American people through university courses and well-funded artistic programs, but it is also a "music of the people", a "jumble" that springs from the aspirations of ordinary people; it is "an indigenous American music", but also international, being "adopted by musicians from all over the world"; although jazz is a "unifying force" that erases ethnic divides, it is still music born from the "African American experience".
Undoubtedly, jazz is a form of art. In fact, it has been called the "classical music of America", and now can be found at the heart of the cultural landscape, whether in concert halls, television documentaries, or university programs. Jazz has always been created by highly skilled and talented musicians, even if their training took place outside of the academic environment. Their unique music demands and rewards the same respect and care traditionally given to classical music. But we can also think of jazz as a popular music. Not in the usual sense of music performed in rural isolation – jazz is distinctly urban, at home on street corners and comfortable with modern technology. However, at a basic level, the qualities that mark jazz as different from other musical genres actually stem from its folk origins. Most often, these popular resources are African American. Jazz was born out of a rich and complicated African American experience, based on musical traditions from Africa, Europe, and the Caribbean, as well as those that took root in the United States. Imagine jazz as a river, like the Mississippi, fed by numerous tributaries such as blues, ragtime, and brass band music, and you will get an idea of its national scope.
---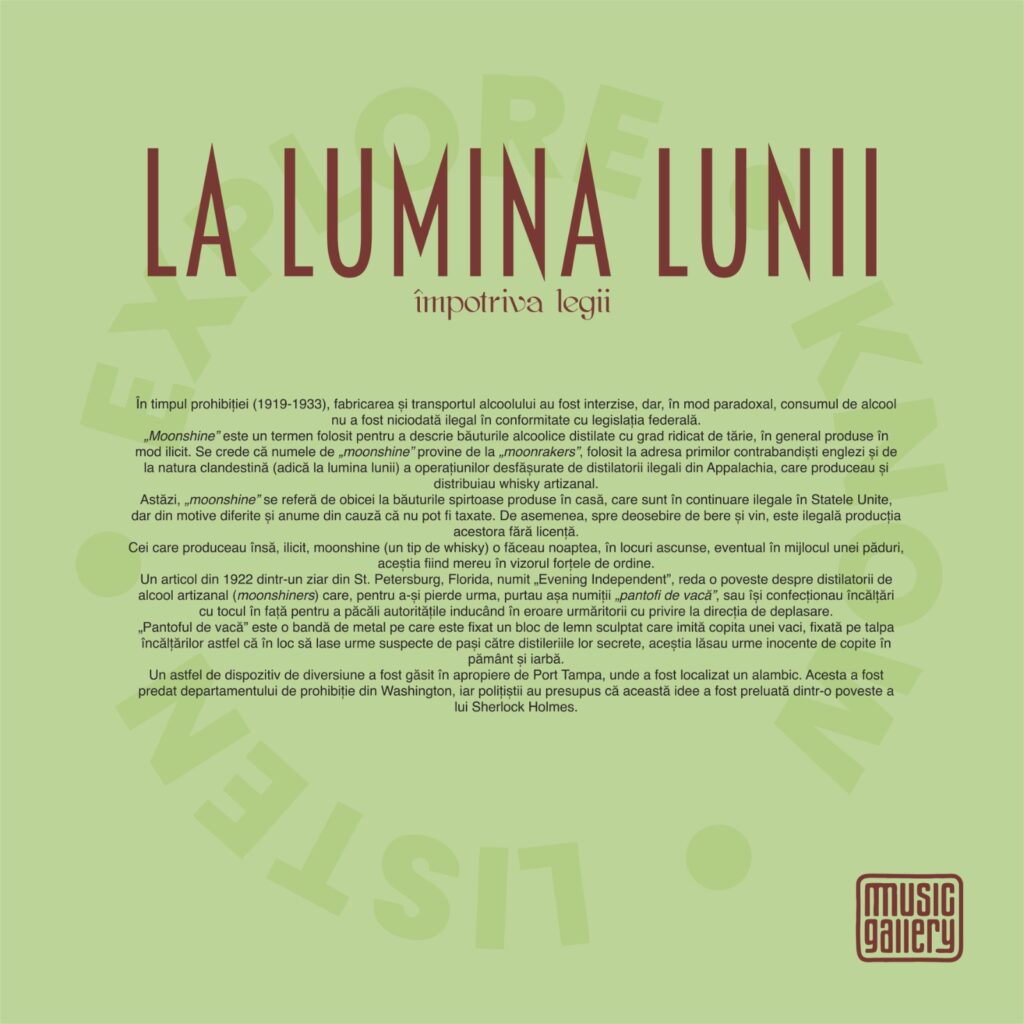 BY THE LIGHT OF THE MOON, AGAINST THE LAW
During Prohibition (1919-1933), the manufacturing and transportation of alcohol were prohibited, but paradoxically, the consumption of alcohol was never illegal under federal law. "Moonshine" is a term used to describe high-proof distilled alcoholic beverages, generally produced illegally. It is believed that the name "moonshine" comes from "moonrakers," used to describe the first English smugglers, and from the clandestine nature (i.e., under the light of the moon) of the operations carried out by illegal distillers in Appalachia, who produced and distributed homemade whiskey.
Today, "moonshine" usually refers to home-distilled spirits, which are still illegal in the United States, but for different reasons, namely because they cannot be taxed. Also, unlike beer and wine, their production without a license is illegal. Those who produced moonshine (a type of whiskey) illegally did so at night, in hidden places, possibly in the middle of a forest, always under the watchful eye of law enforcement.
An article from a 1922 newspaper in St. Petersburg, Florida, called the "Evening Independent," reported a story about moonshiners who wore so-called "cow shoes" or made shoes with the heel in front to fool authorities into thinking they were traveling in a different direction. The "cow shoe" is a metal band attached to a carved wooden block that mimics a cow's hoof, fixed to the sole of the shoes so that instead of leaving suspicious footprints towards their secret distilleries, they left innocent hoof prints in the dirt and grass.
One such diversion device was found near Port Tampa, where a still was located. It was turned over to the Prohibition Department in Washington, and the police presumed that this idea was taken from a Sherlock Holmes story.
---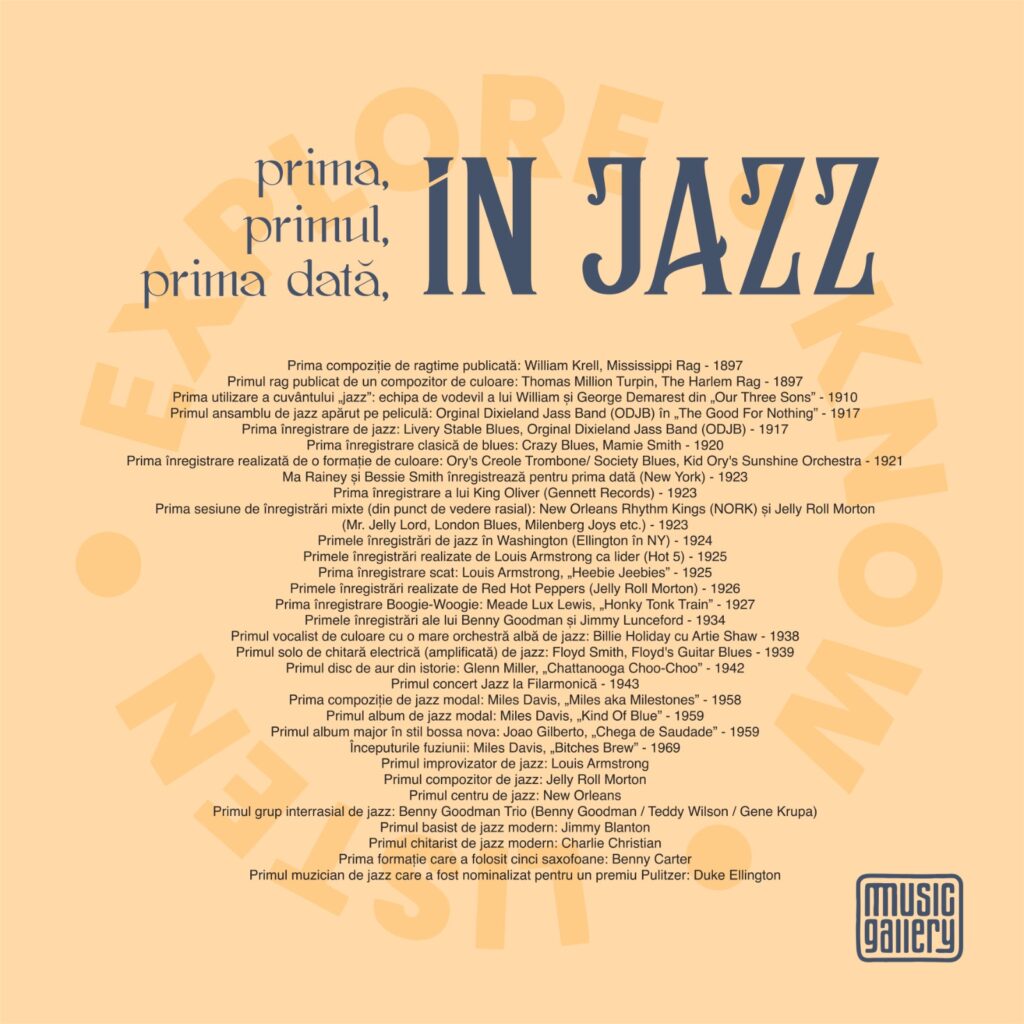 FIRST / FOR THE FIRST TIME IN JAZZ…
The first published ragtime composition: William Krell, Mississippi Rag – 1897
The first rag published by a composer of color: Thomas Million Turpin, The Harlem Rag – 1897
The first use of the word "jazz": the vaudeville team of William and George Demarest in "Our Three Sons" – 1910
The first jazz ensemble to appear on film: Original Dixieland Jass Band (ODJB) in "The Good For Nothing" – 1917
The first jazz recording: Livery Stable Blues, Original Dixieland Jass Band (ODJB) – 1917
The first classic blues recording: Crazy Blues, Mamie Smith – 1920
The first recording made by a band of color: Ory's Creole Trombone/ Society Blues, Kid Ory's Sunshine Orchestra – 1921
Ma Rainey and Bessie Smith record for the first time (New York) – 1923
King Oliver's first recording (Gennett Records) – 1923
The first mixed-race recording session: New Orleans Rhythm Kings (NORK) and Jelly Roll Morton (Mr. Jelly Lord, London Blues, Milenberg Joys etc.) – 1923
The first jazz recordings in Washington (Ellington in NY) – 1924
Louis Armstrong's first recordings as a leader (Hot 5) – 1925
The first scat recording: Louis Armstrong, "Heebie Jeebies" – 1925
The first recordings made by Red Hot Peppers (Jelly Roll Morton) – 1926
The first Boogie-Woogie recording: Meade Lux Lewis, "Honky Tonk Train" – 1927
The first recordings of Benny Goodman and Jimmy Lunceford – 1934
The first black vocalist with a major white jazz orchestra: Billie Holiday with Artie Shaw – 1938
The first jazz electric guitar solo (amplified): Floyd Smith, Floyd's Guitar Blues – 1939
The first gold record in history: Glenn Miller, "Chattanooga Choo-Choo" – 1942
The first Jazz at the Philharmonic concert – 1943
The first modal jazz composition: Miles Davis, "Miles aka Milestones" – 1958
The first modal jazz album: Miles Davis, "Kind of Blue" – 1959
The first major album in the bossa nova style: Joao Gilberto, "Chega de Saudade" – 1959
The beginnings of fusion: Miles Davis, "Bitches Brew" – 1969
The first jazz improviser: Louis Armstrong
The first jazz composer: Jelly Roll Morton
The first jazz center: New Orleans
The first interracial jazz group: Benny Goodman Trio (Benny Goodman / Teddy Wilson / Gene Krupa)
The first modern jazz bassist: Jimmy Blanton
The first modern jazz guitarist: Charlie Christian
The first band to use five saxophones: Benny Carter
The first jazz musician to be nominated for a Pulitzer Prize: Duke Ellington.