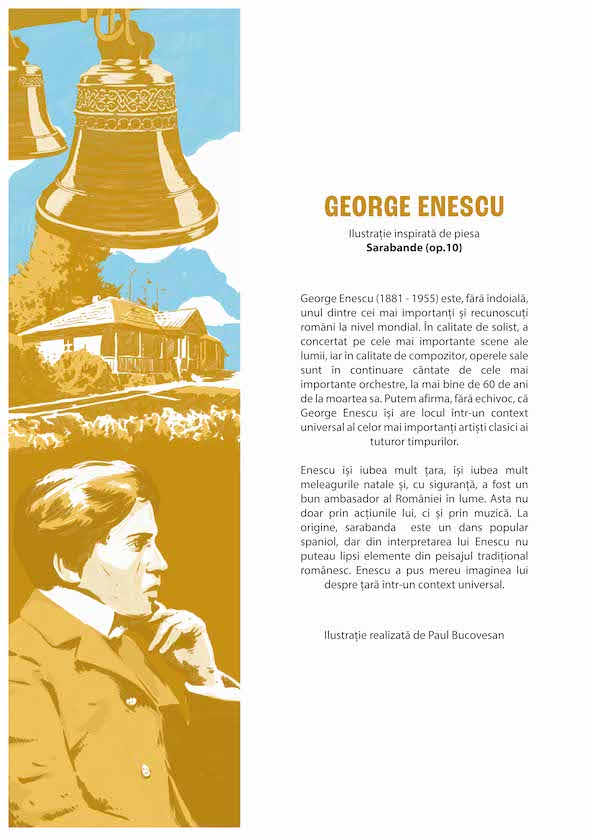 GEORGE ENESCU
George Enescu (1881 – 1955) is undoubtedly one of the most important and recognized Romanians on a global level. As a soloist, he performed on the world's most significant stages, and as a composer, his works continue to be performed by the most important orchestras, more than 60 years after his death. We can unequivocally state that George Enescu holds a place in the universal context of the most important classical artists of all times.
Enescu greatly loved his country, his native lands, and undoubtedly, he was a good ambassador of Romania to the world. This was not only through his actions but also through his music. Originally, the sarabande is a Spanish folk dance, but in Enescu's interpretation, elements from the traditional Romanian landscape couldn't be absent. Enescu consistently placed his vision of the country within a universal context.
Illustration by Paul Bucovesan
---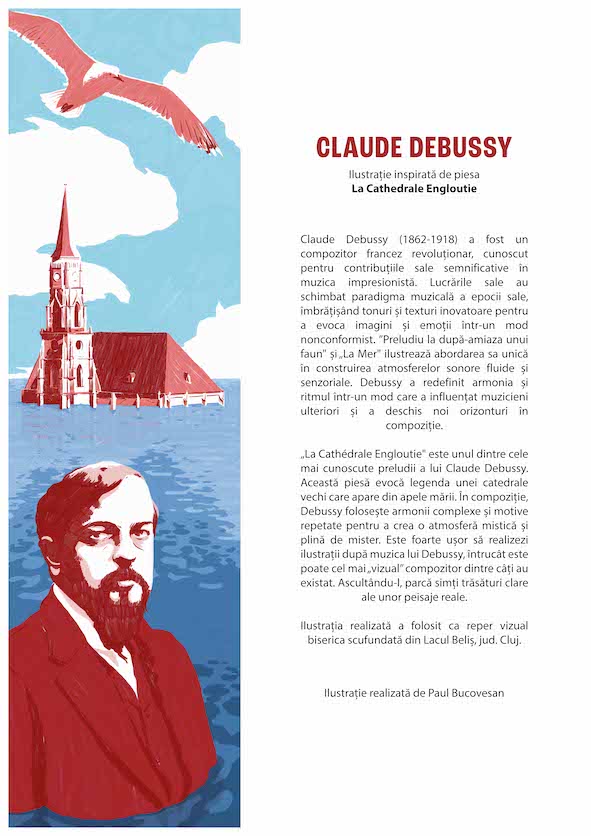 CLAUDE DEBUSSY
Claude Debussy (1862-1918) was a revolutionary French composer, known for his significant contributions to impressionist music. His works changed the musical paradigm of his era, embracing innovative tones and textures to evoke images and emotions in a nonconformist manner.
"Prelude to the Afternoon of a Faun" and "La Mer" illustrate his unique approach in crafting fluid and sensory soundscapes. Debussy redefined harmony and rhythm in a way that influenced subsequent musicians and opened new horizons in composition.
"La Cathédrale Engloutie" is one of Claude Debussy's most well-known preludes. This piece evokes the legend of an ancient cathedral emerging from the sea waters. In his composition, Debussy employs complex harmonies and repeated motifs to create a mystical and mysterious atmosphere. It's quite easy to visualize illustrations based on Debussy's music, as he is perhaps one of the most "visual" composers to have ever existed. Listening to his music, you can almost feel distinct features of real landscapes.
The created illustration used the submerged church in Lake Beliș, Cluj County, as a visual reference.
Illustration by Paul Bucovesan
---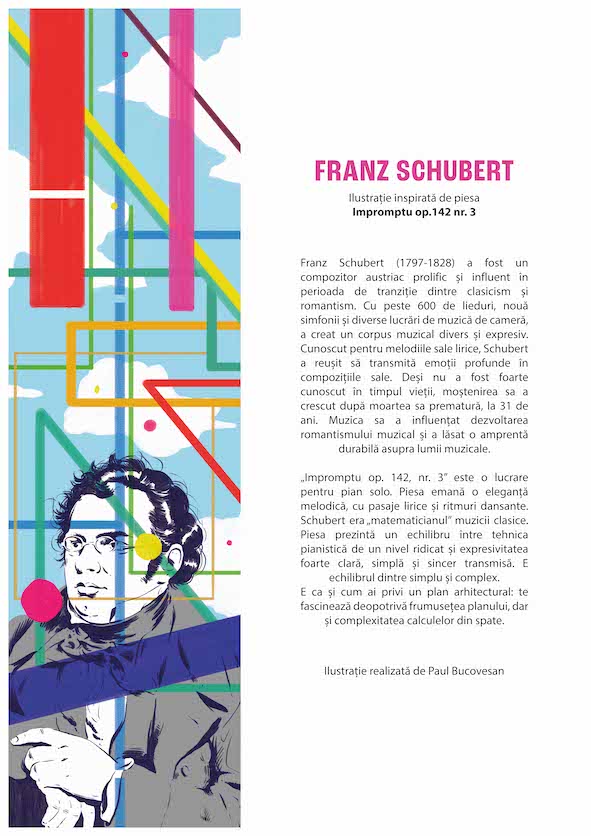 FRANZ SCHUBERT
Franz Schubert (1797-1828) was a prolific and influential Austrian composer during the transitional period between classicism and romanticism. With over 600 lieder, nine symphonies, and various chamber music works, he created a diverse and expressive musical corpus. Known for his lyrical melodies, Schubert managed to convey deep emotions in his compositions. Although not widely recognized during his lifetime, his legacy grew after his premature death at the age of 31. His music influenced the development of musical romanticism and left a lasting imprint on the musical world.
"Impromptu op. 142, No. 3" is a solo piano work. The piece exudes melodic elegance, featuring lyrical passages and dance-like rhythms. Schubert was the "mathematician" of classical music. The piece strikes a balance between highly skilled pianistic technique and a very clear, simple, and sincerely conveyed expressiveness. It's a balance between simplicity and complexity. It's as if you're looking at an architectural blueprint: you're equally fascinated by the beauty of the design and the complexity of the calculations behind it.
Illustration by Paul Bucovesan
---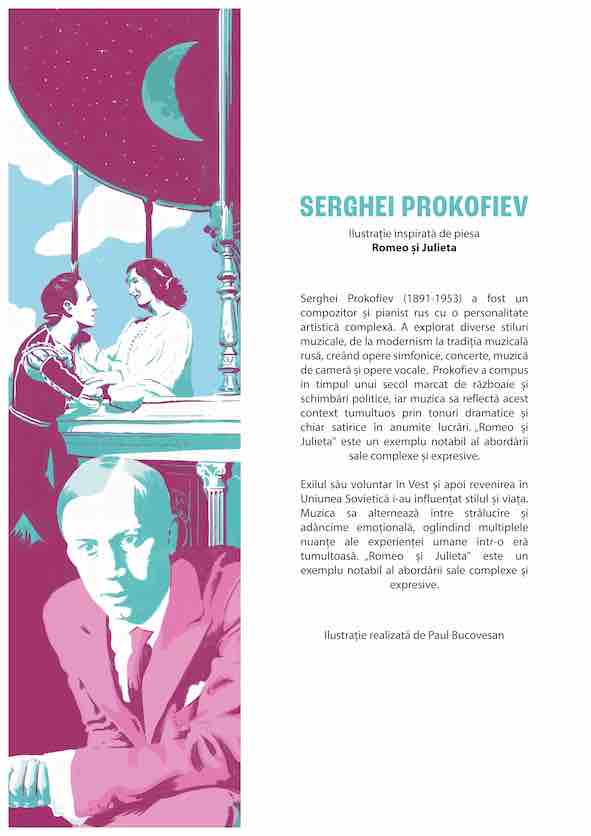 SERGHEI PROKOFIEV
Sergei Prokofiev (1891-1953) was a Russian composer and pianist with a complex artistic personality. He explored diverse musical styles, ranging from modernism to the Russian musical tradition, creating symphonic works, concertos, chamber music, and vocal operas. Prokofiev composed during a century marked by wars and political changes, and his music reflects this tumultuous context through dramatic and even satirical tones in certain pieces. "Romeo and Juliet" is a notable example of his complex and expressive approach.
His voluntary exile in the West and later return to the Soviet Union influenced his style and life. His music alternates between brilliance and emotional depth, reflecting the multiple nuances of the human experience in a tumultuous era. "Romeo and Juliet" is a notable example of his complex and expressive approach.
Illustration by Paul Bucovesan
---