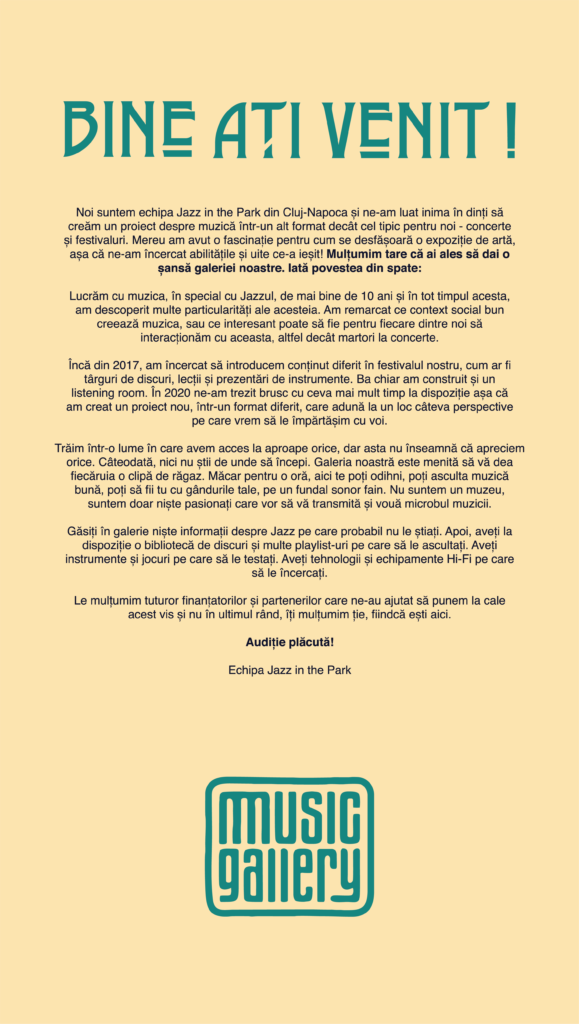 We are the Jazz in the Park team from Cluj-Napoca and we have taken the courage to create a project about music in a different format than the typical one for us – concerts and festivals. We have always been fascinated by how an art exhibition unfolds, so we tested our skills, and here's what came out! Thank you for choosing to give our gallery a chance. Here's the story behind it:
We have been working with music, especially Jazz, for over 10 years and during this time, we have discovered many peculiarities of it. We have noticed what an amazing social context the music creates or how interesting it can be for each of us to interact with it, beyond being mere spectators.
Since 2017, we have been trying to introduce diverse content into our festival, such as record fairs, music lessons, and instrument presentations. We even built a listening room. In 2020, we suddenly found ourselves with more time on our hands, so we created a new project in a different format, which brings together some perspectives that we want to share with you.
We live in a world where we have access to almost everything, but it doesn't mean that we appreciate everything. Sometimes, we don't even know where to start. Our gallery is meant to give each of you a moment of respite. At least for an hour, you can rest here, listen to good music, and be with your thoughts. We're not a museum, we're just passionate people who want to pass on the music bug to you.
You'll find some information about Jazz in the gallery that you probably didn't know. Then, you have a library of records and many playlists to listen to. You have instruments and games to try out. You have Hi-Fi technologies and equipment to test.
Furthermore, we have taken on the challenge of bringing the exhibition to Bucharest as part of the George Enescu Festival, which is why we have adapted the content slightly towards classical music. You will find exhibitions about instruments, lesser-known details about great classical musicians, and our presentation of George Enescu from our perspective.
We thank all the funders and partners who have helped us put together this dream, and last but not least, we thank you for being here.
Enjoy!
The Jazz in the Park team