AHMAD JAMAL
Jazz pianist, composer, bandleader, and educator
(1930 – 2023)
---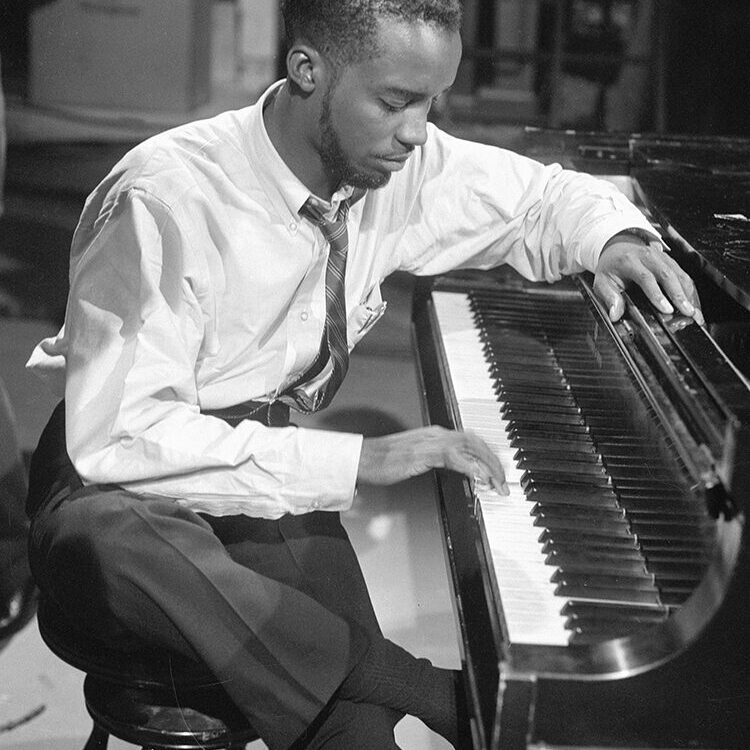 He was born on July 2, 1930 in Pittsburgh, Pennsylvania and began playing piano at the age of 3, the same age as Erroll Garner who would later become his colleague in elementary and high school. Jamal started his formal studies with the renowned educator of those times, Mary Cardwell Dawson, who was responsible for the first African American artists to join the Metropolitan Opera Company.
By the age of 10, Jamal had composed, orchestrated, and performed works by Franz Liszt, exploring the music of Duke Ellington, Art Tatum, Nat Cole, Erroll Garner, and other notable musicians. He strictly studied the American Song Book, amassing an impressive repertoire in a very short time. He quickly gained the attention of his senior masters in Pittsburgh, which helped him secure employment, joining the American Federation of Musicians at the age of only 14, the minimum age requirement being 16.
At 17, he began touring the country with the George Hudson Orchestra, performing at major theaters in the United States, including the renowned Apollo Theater in New York and The Howard Theater in Washington, DC. Jamal performed at the Apollo Theater with the orchestra at the age of 18.
In 1951, he formed his own group and with the help of John Hammond, began recording extensively. This career continued for over six decades, resulting in one of the most successful instrumental recordings in music history – "The Ahmad Jamal Trio, at The Pershing". His music was selected by Clint Eastwood – Jamal's most steadfast fan, as the soundtrack for the film "The Bridges Of Madison County" and prominently featured in the film "The Wolf Of Wall Street", while dance companies around the world create works to Ahmad Jamal's music.
---
DIZZY GILLESPIE (John Birks Gillespie)
Trumpeter, orchestra leader, composer, arranger, conga player, cultural ambassador
(1917 – 1993)
---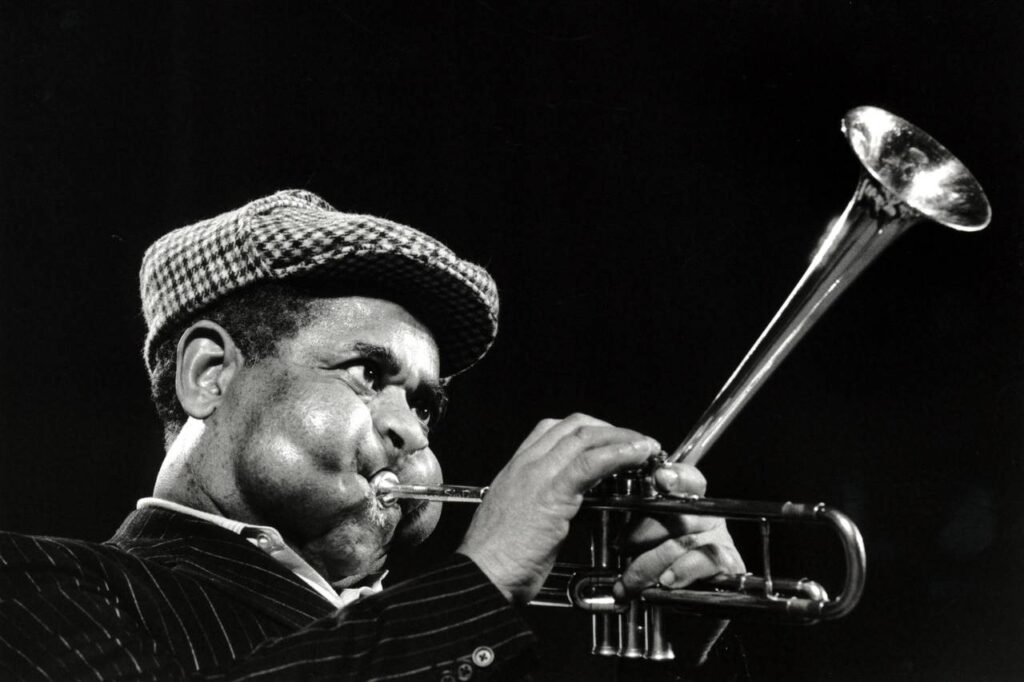 Dizzy Gillespie was a giant in the world of jazz, a virtuoso, composer, and innovator of bebop music and a precursor to Afro-Cuban music. Although he received musical training in his childhood, he taught himself to play the trumpet. In 1935, he joined a band in Philadelphia where he earned the nickname "Dizzy" for his antics on stage.
Gillespie made his first recording with the Teddy Hill Band in 1937, "King Porter Stomp," and joined Cab Calloway's band in 1939. He began to move away from the traditional trumpet style he had learned from Louis Armstrong, Charlie Shavers, and Roy Eldridge. At that time, he also met trumpeter Mario Bauza, who sparked his interest in Afro-Cuban music. By 1940, Gillespie was participating in after-hours sessions with other musicians – Charlie Parker, Kenny Clarke, and Bud Powell – whose experiments would trigger the bop revolution. After leaving Calloway, he joined Earl Hines's band, which included Parker, and composed "Interlude," which would become "Night in Tunisia."
Gillespie and Parker's musical direction would not be accepted by the public for a few more years. You couldn't dance to it… anathema to the swing generation. In 1946, Dizzy formed a star-studded band that included Cuban percussionist Chano Pozo. In collaboration with Walter Fuller, they composed the incendiary piece "Manteca."
In 1953, someone fell on Gillespie's trumpet and bent the bell at a 45-degree angle. He liked playing it that way and ordered specially made instruments for himself. In 1956, he toured the world as the leader of a big band sponsored by the US State Department, and from the late 1980s, he led the United Nations Orchestra until his retirement in 1992. Other jazz compositions that solidified their position in the repertoire include "Groovin' High," "Birks Works," "Con Alma," "Anthropology" with Walter Bishop Jr. and Charlie Parker, and "Salt Peanuts."
---
DUKE ELLINGTON
Composer, orchestra leader, pianist
(1899 – 1974)
---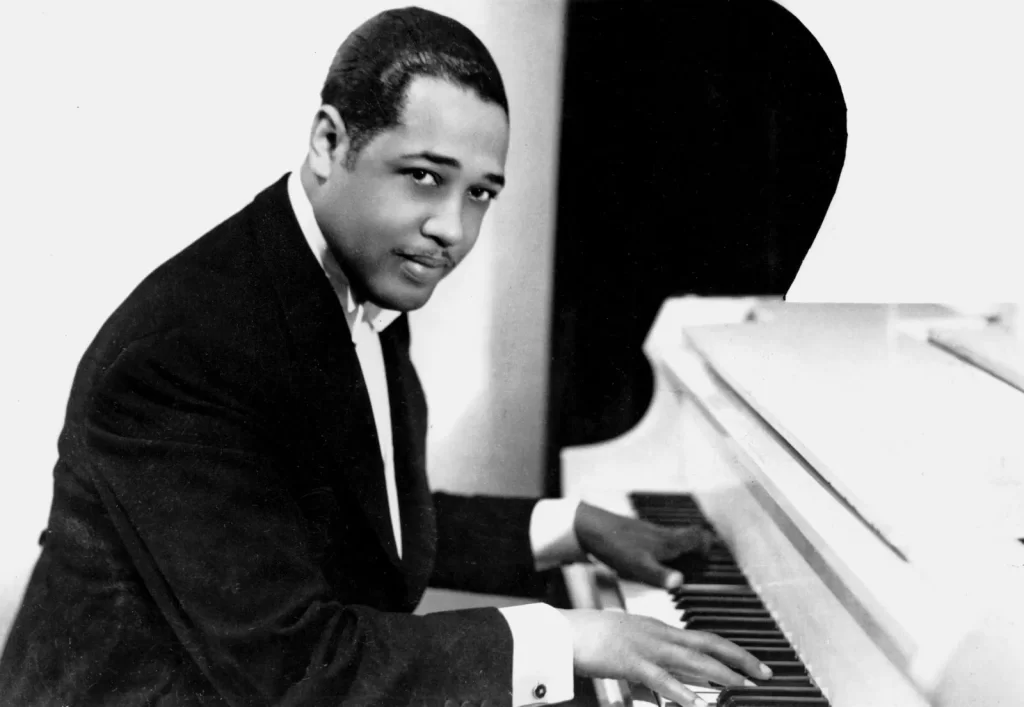 Duke Ellington is one of the most important musicians of the 20th century. Books have been written about him, his image is on an American postage stamp, he has been awarded doctorates and the Medal of Honor from the President, and the 100th anniversary of his birth led to a national Centennial celebration.
His bands in the 1920s and 1930s introduced "jungle music," which incorporated African influences. He wrote specifically for his musicians, relying on their talents as soloists and ensemble players to create the "Ellington effect," as it was called by Billy Strayhorn. He used instruments in unusual roles within the orchestra and rarely played solo piano, preferring the role of arranger.
Regarding Ellington the man, Gene Lees in his book "Meet Me at Jim & Andy's: Jazz Musicians and Their World" said, "He was, I believe, a much more interesting man, with complex dimensions, than the hagiography of jazz has made him appear… He took the world as he found it, both in life and in music,
tolerating the discrepancies and contradictions between people and circumstances. That's how he managed to make a functional unity of people with such disparate sounds and personalities."
Ellington's band gained notoriety at the Cotton Club in Harlem in 1927, and in 1930 they went to Hollywood to make the film "Check and Double Check." That same year, Duke received recognition as a composer for "Mood Indigo."
In 1959, Ellington scored the soundtrack for the film "Anatomy of a Crime," in which he also played the role of a pianist named Pie Eye. In his later years, he dedicated himself to composing "sacred concerts," complex pieces to perform due to the logistics required: orchestra, choirs, soloists, and dancers.
A partial list of his memorable compositions must include "It Don't Mean A Thing (If It Ain't Got That Swing)," "Sophisticated Lady," "In A Sentimental Mood," "Prelude To A Kiss," "I Got It Bad (And That Ain't Good)," "Don't Get Around Much Anymore," "I'm Beginning To See The Light," and "Satin Doll."
---
ELLA FITZGERALD (Ella Jane Fitzgerald, Lady Ella)
Vocalist, orchestra leader, composer
(1917 – 1996)
---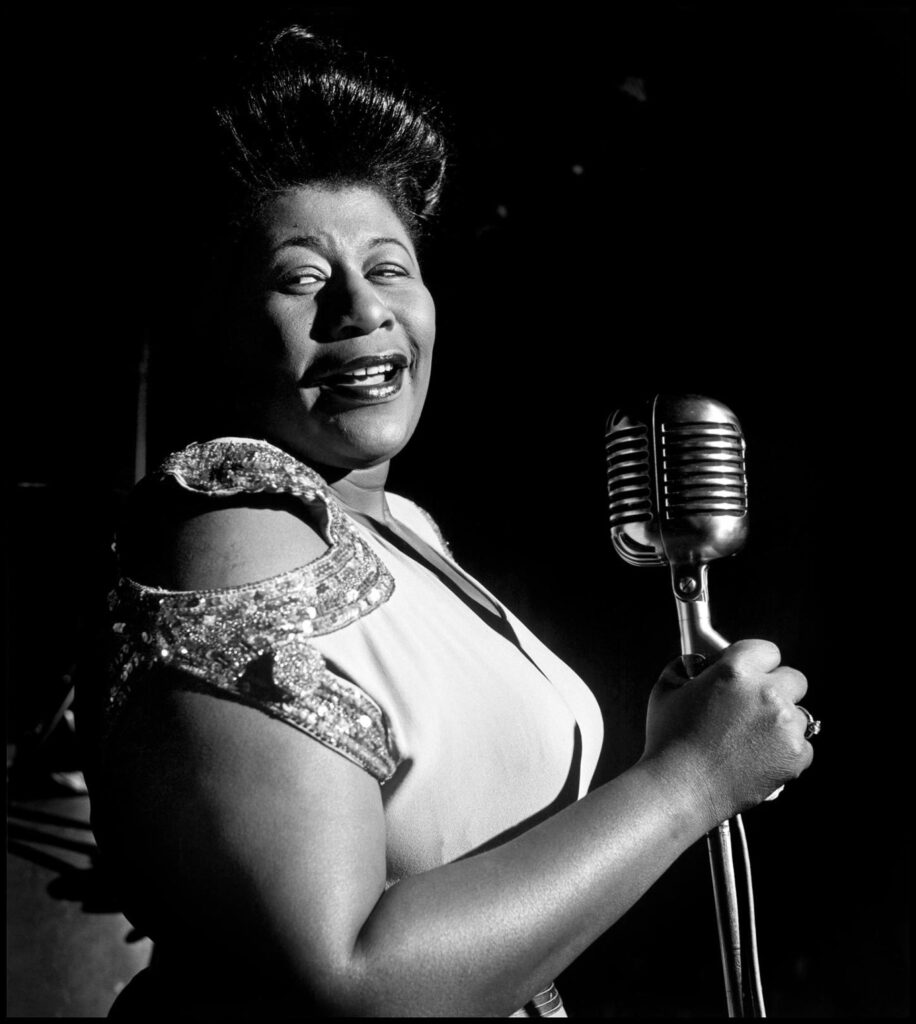 Ella Fitzgerald grew up in poverty and became an orphan at a young age. She was born in Newport News City, Virginia and moved to Yonkers, New York as a young girl with dreams of becoming a dancer. However, in January 1935, her career path was decided for her when she won the Amateur Hour singing contest in Harlem, and by May she was already singing with popular drummer Chick Webb's band, who took her under his wing. In 1939, Ella and Webb's band had a huge success with "A Tisket-A Tasket", which over the years became a hit sold in millions of copies.
Both the public and critics loved her, as she was voted the number one female vocalist in Down Beat magazine's readers' poll for over thirty years, starting in 1937. She collaborated well with other popular performers of the time such as The Ink Spots and Louis Armstrong, and in the mid-1940s she embraced bebop. In 1945, Ella recorded "Flying Home" with Vic Schoen's Orchestra, a tour de force of the scat genre and a landmark in her career.
In 1948, she joined Norman Granz's Jazz at the Philharmonic series, which brought her together with the most creative top jazz instrumentalists.
As Gary Giddins says in "Faces in the Crowd: Players and Writers", "Fitzgerald's long career is a tangle of paradoxes". Specifically, he emphasizes that "she is resolutely a jazz singer, but cannot sing the blues…", "she is an impeccable ballad singer, but lacks the talent for histrionics…", "she is a product of the Swing Era…which in the public mind was associated with scat singing, with bebop influences…" and "she doesn't release hit records, but exclusively performs in the world's major concert halls."
"The First Lady of Song," as she was called, became an international star and winner of 14 Grammy Awards, both in the pop and vocal jazz categories, and since 2007 her image has been featured on a United States postage stamp.
---
ETTA JAMES
Blues vocalist, rock and roll, soul, jazz, gospel, R&B
(1938 – 2012)
---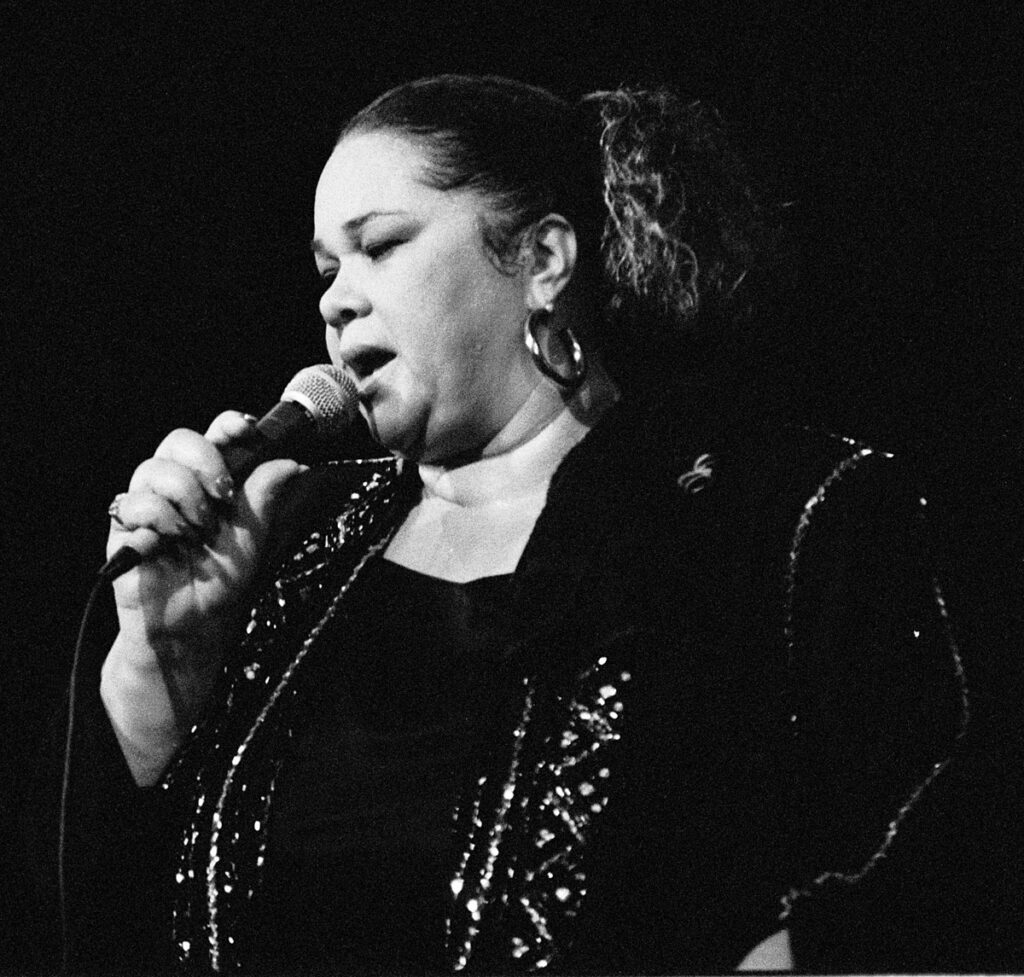 Etta James was raised by adoptive parents until her biological mother (who was 14 years old when James was born) took her 12-year-old daughter to San Francisco. There, James formed a doo-wop girl trio called the Creolettes, which was renamed Peaches after band leader Johnny Otis discovered them when James was 14 years old. After signing with Chess Records in 1960, James became the label's first major female star with songs like "All I Could Do Was Cry," "Trust in Me," "At Last," and "Something's Got a Hold on Me," and in 1967 she returned to the charts with the soul hit "Tell Mama." James left Chess Records in 1976 and began recording for other record labels and touring. She performed as the opening act for the Rolling Stones in the late '70s and early '80s.
After a seven-year absence, she recorded the album Seven Year Itch in 1988, followed by Stickin' to My Guns in 1990, 12 Songs of Christmas in 1998, Let's Roll in 2003, and her final album, The Dreamer in 2011. Over the years, James' voice changed, becoming rougher and deeper, making her one of the first women to sing in the style that later became known as soul. She continued to perform until the beginning of the 21st century.
James' artistic mastery was recognized with four Grammy awards, including one in 2003 for her entire career, as well as induction into the Rock and Roll Hall of Fame, Blues Hall of Fame, and Grammy Hall of Fame. Her autobiography, Rage to Survive, written with David Ritz, was published in 1995.
---
HERBIE HANCOCK (Herbert Jeffrey Hancock)
Keyboard player, composer and bandleader
83 years old
---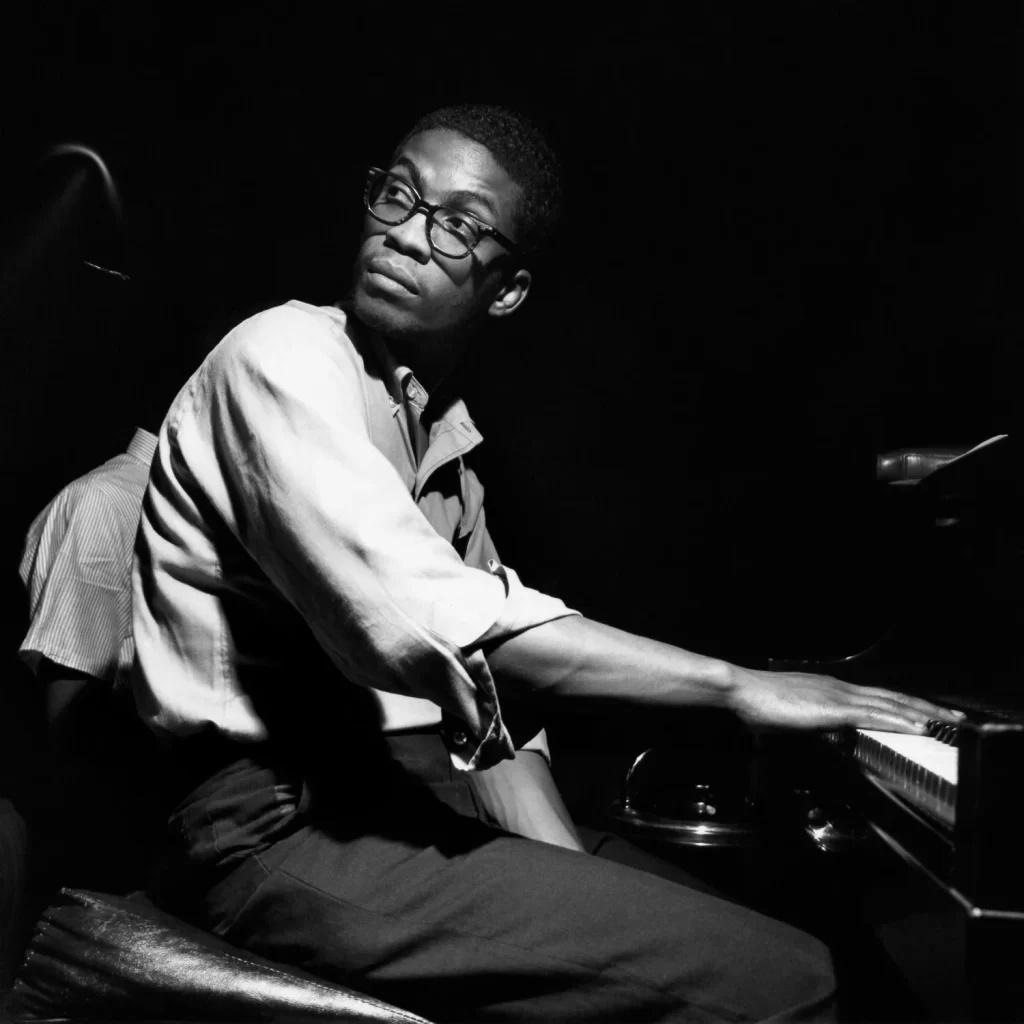 Born on April 12, 1940 in Chicago, Illinois, USA, he gained wide popularity as the leader of electric jazz-rock groups. At the age of 11, Hancock performed the first movement of a Mozart concert with the Chicago Symphony Orchestra. He formed his own band during high school, and after graduating from Grinnell College in Iowa in 1960, he joined trumpeter Donald Byrd's group and moved to New York. There, his ingenious accompaniments and accurate solos with bebop groups brought him tours with Miles Davis during the period 1963-1968. The research on the rhythmic and harmonic freedom of Davis' mid-60s quintet stimulated some of Hancock's most daring rhythmic and harmonically colorful concepts.
In the 1970s, after participating in Davis' first jazz-rock experiments, Hancock began leading fusion bands and playing electronic keyboards, electric pianos, and synthesizers, releasing jazz-funk hits like "Chameleon" from the album Headhunters, his best-selling album. Among Hancock's later dance hits are "You Bet Your Love" and "Rockit". Meanwhile, he composed music, both jazz-rock and classic jazz, for commercials, television, and films such as "Blow-Up", "Death Wish", and "Round Midnight" – for which he won an Oscar.
For the 2001 album "Future 2 Future", Hancock teamed up with jazz legend Wayne Shorter and some of the biggest names in techno music to produce a fusion full of jazz rhythms and electronic music. His next project, Possibilities (2005), was an adventure in pop music with guests such as Stevie Wonder, Paul Simon, and Santana. Throughout his career, he has won 14 Grammy awards and received 34 nominations.
---
JOHN COLTRANE (John William Coltrane)
Saxofonist, composer, orchestra leader
(1926 – 1967)
---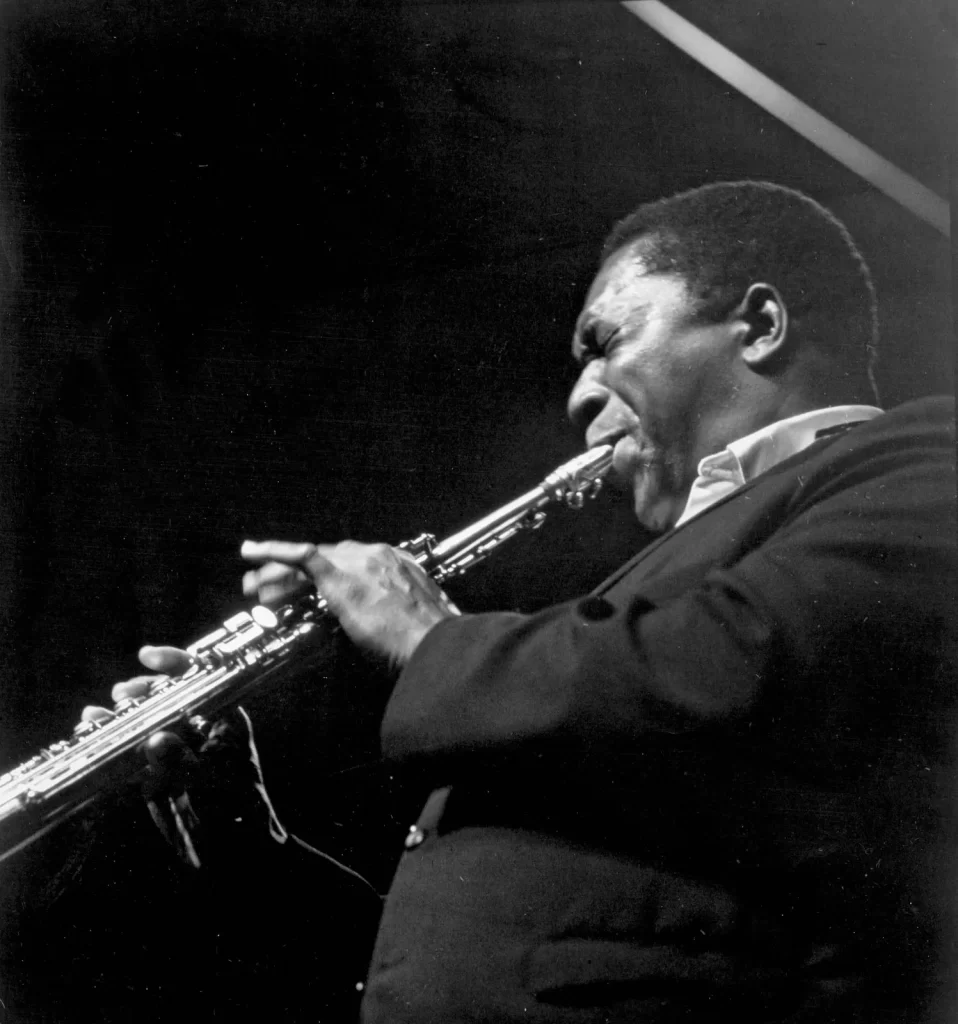 John Coltrane died at only 40 years old, but he was already one of the most influential figures in 20th century jazz. The beginning of his career gave no indication of the sparks he would ignite in the genre's industry. He served in the Navy from 1945-1946 and returned to play with a variety of jazz groups, switching from alto sax to tenor in 1947. He only began to attract critics' attention when he joined Miles Davis' quintet in 1955, and in 1957 he released the controversial "Blue Train" as a bandleader. He also overcame his addictions and experienced a spiritual awakening, which he celebrated in his groundbreaking 1964 session, "A Love Supreme."
In 1958, Coltrane returned to Davis' group, appearing on "Milestones" and "Kind of Blue," which introduced Davis' modal concept and Coltrane's improvisational technique, dubbed "sheets of sound" by writer and critic Ira Gitler.
He recorded "Giant Steps" in 1960 and in 1961 recorded two very different albums – the highly experimental "Live at the Village Vanguard" and the innovative and commercially successful "My Favorite Things."
In 1963, he recorded three albums representing the more conservative side of his music: "Ballads," "Duke Ellington and John Coltrane," and "John Coltrane and Johnny Hartman."
Coltrane's expertise on his instrument allowed him to intertwine his spiritual and compulsive musical pursuits. The two had become one, and although his music was inspired, some considered it incomprehensible.
He received a Grammy Award for Best Jazz Solo Performance in 1982, and in 1991 a street was named in his honor at Universal Studios. He received a Lifetime Achievement Grammy in 1992, a postage stamp featuring his image was issued by the US Postal Service in 1995, and in 1971 a church was founded in his name in San Francisco, the St. John Coltrane African Orthodox Church, which thrived and helped the homeless until 2000 when real estate development forced the congregation to leave the premises. The church moved to a shared space and is still active.
---
LEE MORGAN
Improviser and jazz composer, lyrical artist
(1938 – 1972)
---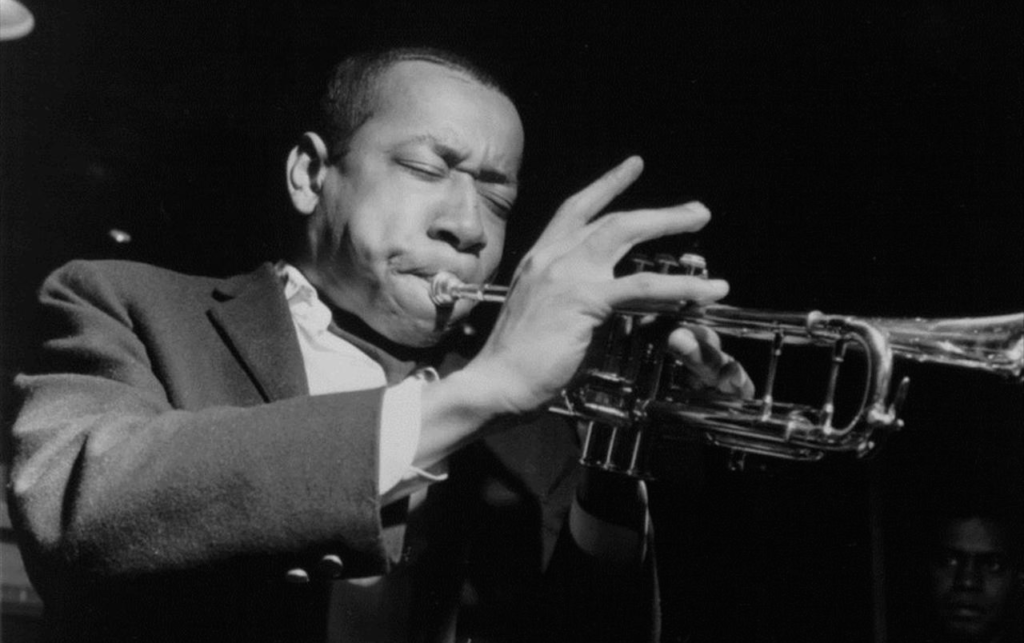 Lee Morgan was the most expressive virtuoso of the trumpet in the bop idiom and one of its most popular representatives. A prodigy, Morgan became a professional musician at the age of 15, and at 18 he had become the soloist of Dizzy Gillespie's big band. He began leading his own recording sessions in the late 1950s, initially displaying a style inspired by Clifford Brown's trumpet. Even then, however, his interpretation showed idiosyncratic elements of phrasing and expression, elements that were integrated into a personal style during his first period of activity (1958-1961) with Art Blakey and the Jazz Messengers. He recorded the hit "The Sidewinder" before returning to Blakey (1964-1965), after which he led his own groups for the rest of his career. He suffered periods of decline, during which he struggled with heroin addiction and was killed in a nightclub.
Morgan's extroverted works, such as "The Sidewinder," emphasized the blues side of his interpretation and composition. The emotional complexity, from exuberance to dark moods, was typical of his improvisations, as demonstrated by the melodic complexity and rhythmic presence. He enjoyed much empathy and professional support in his recurring associations with drummer Blakey and tenor saxophonists Wayne Shorter and Hank Mobley, as evidenced by albums such as "Lee-Way" (1960), "Search for the New Land" (1964), "The Gigolo" (1965), and his single "Speedball," "Cornbread" (1965), and the ballad "Ceora," as well as the Jazz Messengers' album "Witch Doctor" (1961).
---
LOUIS ARMSTRONG (Louis Daniel Armstrong)
Musician, trompetist, composer and jazz singer
(1901-1971)
---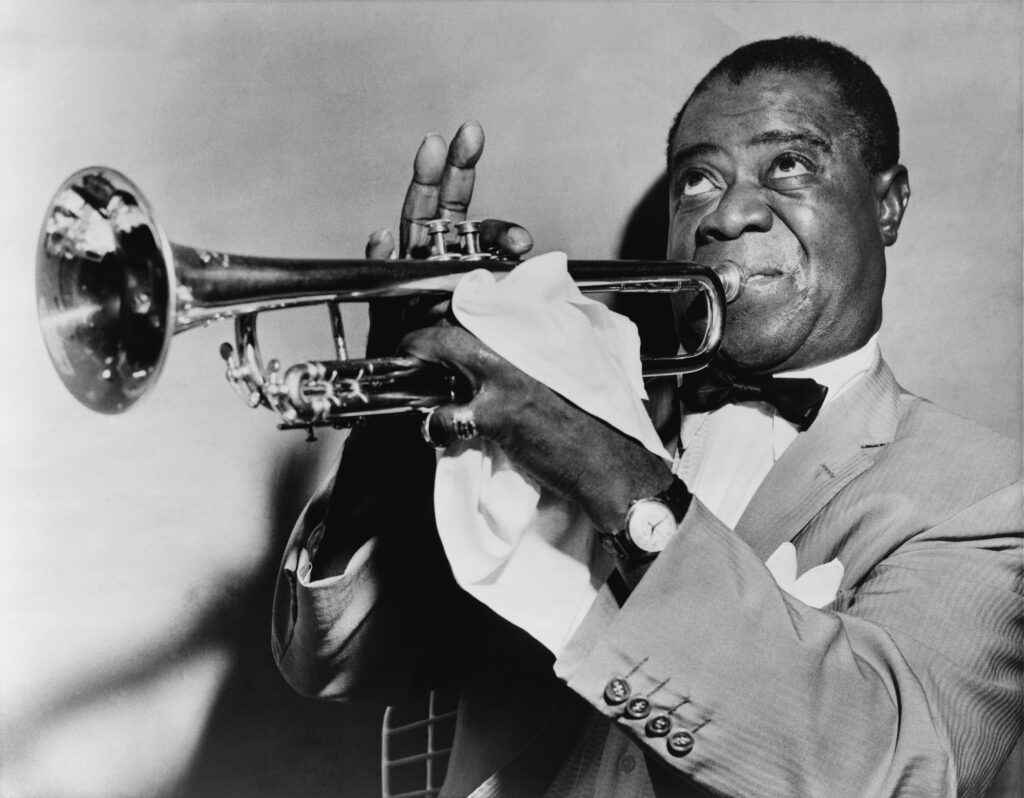 Louis Armstrong is probably the most important figure in the development of jazz. The issue of his popularity is important because it had cultural and political implications beyond music. Although he grew up in unimaginable poverty and racial segregation, he was able to present his music in a generous way that thrilled and won over new audiences. In a period when jazz was politically and religiously denounced as primitive, unskilled, immoral, and even degenerate, Armstrong used his extraordinary personality to calm fears and neutralize dissensions. America had never experienced anything like him before.
Before Armstrong, jazz was generally perceived as an urban popular music that had more in common with ragtime and military orchestras and less with the rhythms we associate with jazz or swing dance music today. It was an ensemble music, adapted for social functions, encountered both in dance halls and at funerals, using a fixed repertoire and a communal aesthetic. Without Armstrong, the progress of jazz as a distinctive art form – a way of singing based on improvisation – would have been slower and less decisive.
Armstrong established jazz as a music that values individual expression. His creative spirit proved too powerful for the rigors of traditional music. To rise to Armstrong's level, a musician had to do more than master an instrument; they had to make the instrument an extension of themselves.
In his youth, Armstrong adopted the scat singing style – the use of nonsense syllables instead of words, with the same improvisational success and expressiveness and candor as an instrumentalist. But by 1926, when he recorded "Heebie Jeebies," few people had heard a scat voice.
Perhaps Armstrong's greatest contribution was teaching us what swing is. He introduced a new energy of rhythm that would ultimately become second nature for people all over the world. As the most celebrated black artist in the history of Western music up to that point, born just two generations after slavery, he embodied the promise of a new era in which American music would rival that of Europe and Russia.
---
MILES DAVIS (Miles Dewey Davis III)
Trompetist, orchestra leader, composer, artist
(1926 – 1991)
---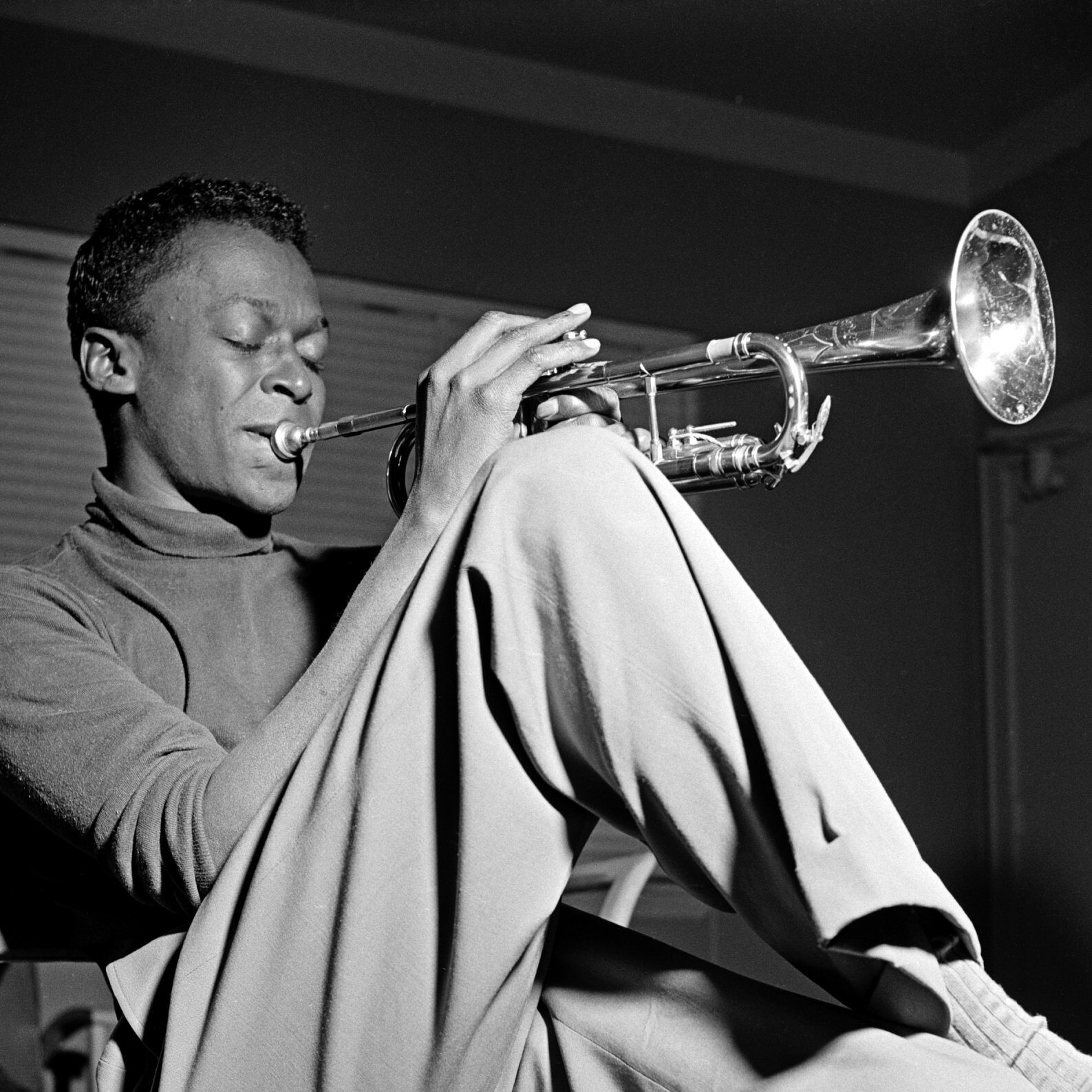 Miles Davis was born in Alton, Illinois, into a wealthy African American family. His grandfather owned land in Arkansas, and his father was a prominent dental surgeon and pillar of their community in St. Louis. The comfortable living environment instilled in him an unshakable self-confidence, stimulated by his father's education and prosperity, and his mother's beauty, with an equally strong personality and a passion for fashion. When Billy Eckstine's orchestra visited St. Louis in 1944, Davis took a seat alongside the band's dynamic soloists, Dizzy Gillespie (who advised him to learn piano and harmony) and Charlie Parker. Later that year, Davis's father sent him to New York to study at Juilliard School.
Davis's work involved a continuous rethinking of the four primary elements that define jazz and most other types of music: harmony, melody, rhythm, and instrumentation. But Davis's importance goes beyond his musical pursuits. His personality – often bellicose, always independent, and with periods of isolation – impressed musicians and audiences alike. He became an inevitable symbol of his time and a magnet for artists both in and outside of music. With an extremely charismatic personality, Davis appeared as the archetype of the modern jazz musician (distant, unattractive, romantic) and the African American man of the civil rights era (autonomous, sincere, unparalleled in his talent). Imitated for his personal and musical attributes, including his clothing and frankness, Davis received a series of appellations such as the Prince of Darkness, the Wizard…
Davis composed the music for the French film "L'Ascenseur pour l'Echafaud" in 1957 and acted in the Australian film "Dingo" in 1991. He was also a recognized artist, and his paintings and sketches are a bold and masculine blend of Kandinsky, Jean-Michel Basquiat, Picasso, and African tribal art. Davis's visual art appears on some of his album covers, such as the artwork on the "Amandla" album from 1989.
---
SARAH VAUGHAN
Vocalist, pianist, organist
(1924 – 1990)
---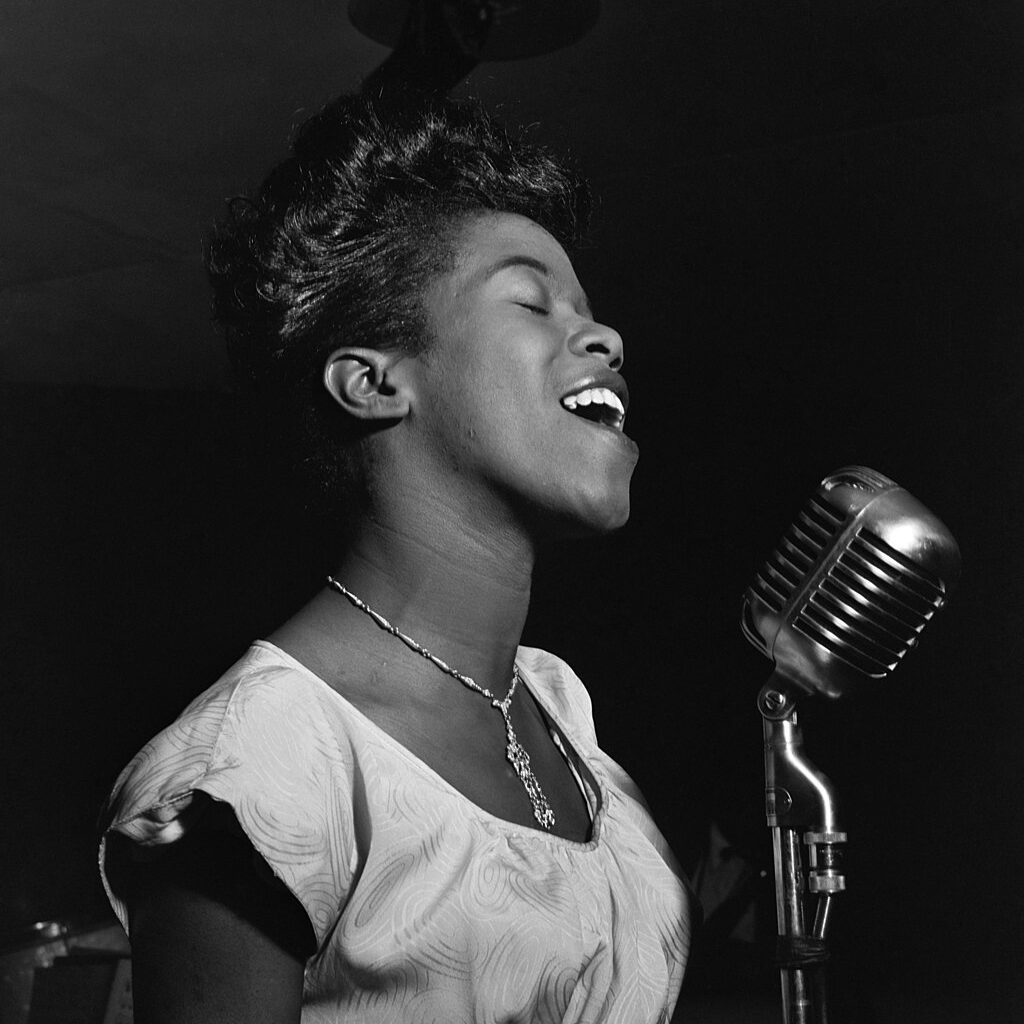 Sarah Vaughan was a natural talent whose extraordinary vocal range, which she traversed with fluidity, allowed her to reach the heights of an opera singer and the rich depths of a jazz singer. She earned the nickname "The Divine One" for her musical mastery and was affectionately called "Sassy" by her friends.
Vaughan had training in piano and organ performance and sang in the church choir she attended. At 18, she won the famous amateur singing contest at the Apollo Theater, which led to a position as a singer and second pianist in Earl Hines' band, which also included vocalist Billy Eckstine. When Eckstine formed his own bebop-oriented band in 1944, he brought Sarah with him. Collaborations with Dizzy Gillespie, Charlie Parker, Art Blakey, and other pioneering bebop musicians influenced her ability to improvise like an instrumentalist. She was the first to record Dizzy's tune "Night in Tunisia," then known as "Interlude," played as a ballad. The following year, Vaughan caught the attention of the jazz world with "East of the Sun," recorded with Gillespie, and "Lover Man," with Gillespie and Parker. Her first major hit was "Tenderly" in 1947.
Two songs closely associated with her, "After Hours" and "Street of Dreams," were recorded in '51 and '52. She signed with Mercury Records in 1954, which allowed her to have a dual career, recording popular material for the parent company and teaming up with jazz heavyweights for its EmArcy subsidiary. These sessions produced some of her finest work: "In the Land of Hi-Fi with Cannonball Adderley" and "Sarah Vaughan with Clifford Brown."
A session with the Basie band in 1961 showcased her vocal acrobatics. Throughout the '70s and '80s, she continued to collaborate with renowned jazz artists, recorded two albums of Brazilian music, and set Pope John Paul II's poetry to music. In 1982, she won a Grammy for "Gershwin Live!" and was honored with a Lifetime Achievement Grammy in 1989.
---
THELONIOUS MONK (Sfera Thelonious Monk)
Composer, pianist, orchestra leader
(1917 – 1982)
---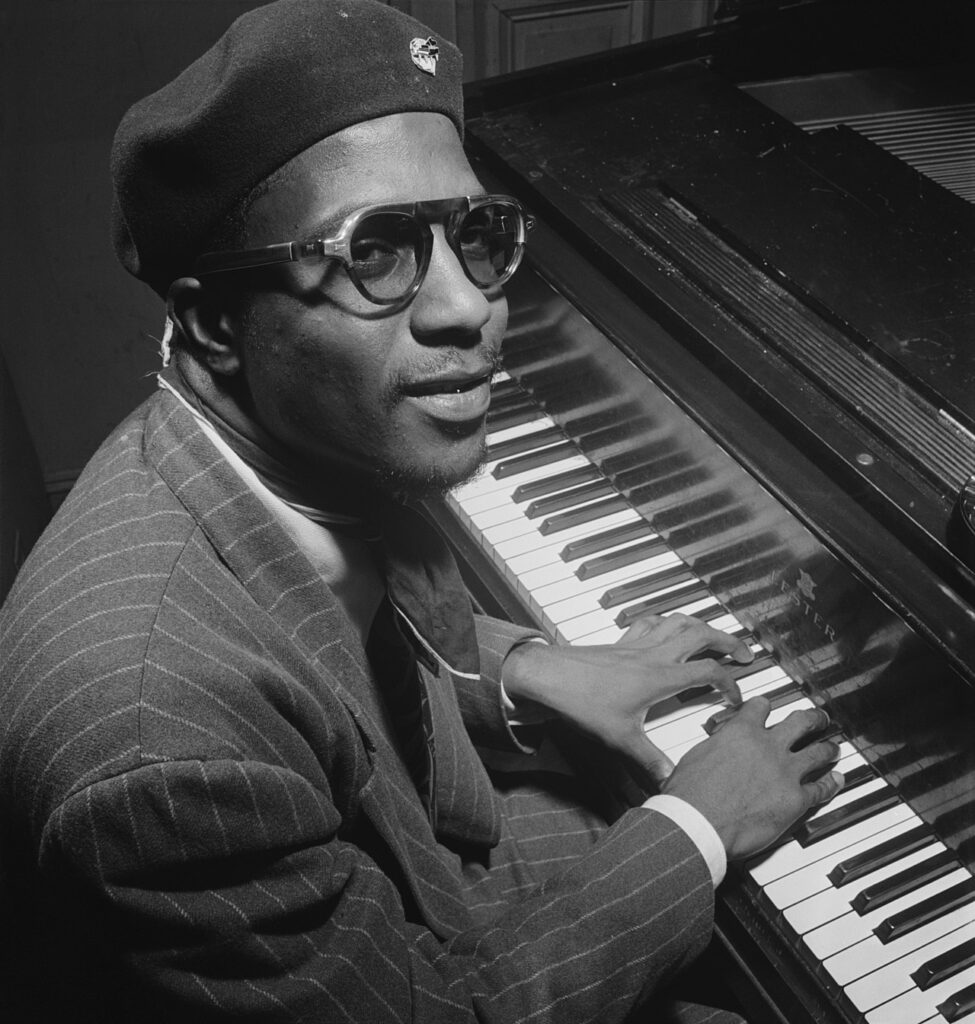 Thelonious Monk was an idiosyncratic jazz pianist who left a relatively small, but extremely important body of work. He grew up in New York City and from a young age could play anything he heard. He was influenced by the first stride pianists, and at 17 he hit the road with a gospel/evangelist singer.
In 1944, Coleman Hawkins hired him for his band, which included Dizzy Gillespie, who was at the forefront of the bebop movement. Monk contributed to the development of bebop through a more intellectual approach to music. If they wanted to impress someone, they would perform Monk's "Epistrophy," which almost no one could play because of its difficult harmonic structure.
Monk's music was incomprehensible to most people at first, and even today many musicians shy away from his eccentric, dissonant and rhythmically displaced pieces. Some of his works, in the style of bebop, are reharmonizations of standard melodies: "Blue Skies" is the basis for "In Walked Bud" and "Ja-Da" for "Sixteen."
Monk's career gained momentum in the late '50s with three important recordings: "Brilliant Corners," "Thelonious Himself," and "Thelonious Monk with John Coltrane." In 1959, he played at Town Hall with the orchestra, in 1964 he appeared on the cover of Time magazine and toured Europe with his band, which included saxophonist Charlie Rouse, his "musical soulmate." His last concert took place at the Newport Jazz Festival in 1976, after which he withdrew from the public eye until his death.
Monk is best appreciated as a soloist, and his reinterpretations of jazz standards are particularly telling. Many of his compositions have become part of the jazz canon: "Blue Monk," "Bemsha Swing," "Well You Needn't," "Ruby My Dear," "I Mean You," and especially "'Round Midnight."
---
WAYNE SHORTER
Composer, jazz saxofonist, one of the most influential hard-bop & modal musicians, a pioneer of jazz-rock fusion music
90 years old
---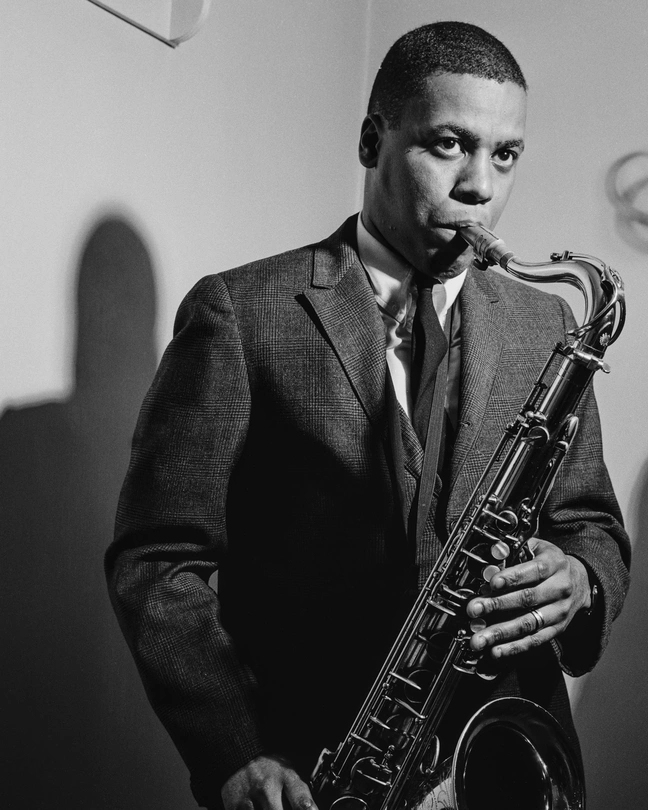 He was born on August 25, 1933, in Newark, New Jersey, USA, studied at New York University, and served in the American army (1956-1958). He spent short periods of time in Horace Silver's quintet and Maynard Ferguson's big band before his first major association with Art Blakey's hard-bop Jazz Messengers. He joined Miles Davis' modal jazz quintet as a tenor saxophonist in 1964 and stayed with him during Davis' first experiments with fusion music, leaving the band in 1970.
Throughout the '70s and much of the '80s, Shorter and keyboardist Joe Zawinul led Weather Report together, a fusion band that explored an unusual variety of sound colors. He frequently returned to the tenor saxophone and, in the following years, led his own fusion groups.
Shorter's improvisation has always stood out for its sophisticated harmonies and rhythms. His first tenor saxophone solos, inspired by Sonny Rollins, presented a rare formal unity, using thematic improvisation techniques, often with drama and humor ("Afrique", "High Modes"). A growing concern for lyricism led to a considerable stylistic revision and the use of more diffuse forms until the mid-1960s. Much of his performance suggested a reinterpretation of John Coltrane's style. His early works on soprano saxophone, including the 1969 album Super Nova, are particularly notable for their melodic flow. A prolific composer, Shorter wrote many of his best songs for Blakey's and Davis' groups, including "Lester Left Town", "Ping Pong", "Children of the Night", and "Footprints".
Shorter continued to perform until the beginning of the 21st century, and among his later albums are "Atlantis" (1985), "High Life" (1995), "Without a Net" (2013), and "Emanon" (2018). The latter two are among the few that included the quartet consisting of Shorter, Danilo Pérez (piano), John Patitucci (bass), and Brian Blade (drums). Shorter has received over 10 Grammy awards, including a lifetime achievement award in 2015. He was named a Jazz Master by the National Endowment for the Arts in 1998 and was celebrated at the Kennedy Center Honors in 2018.
---
ROBERT GLASPER
Jazz pianist
44 years old
---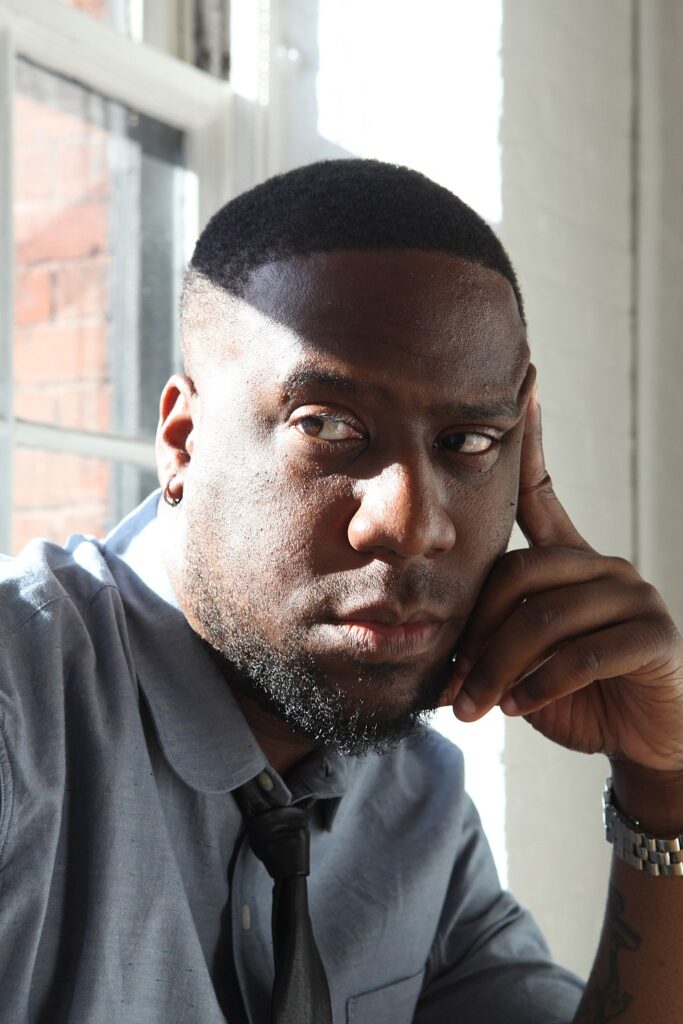 Originally from Houston, Texas, his composition style is gentle, calm, but harmonically complex, revealing a subtle hip-hop influence. Inspired to play the piano by his mother, a gospel pianist and vocalist, Glasper attended the High School for the Performing and Visual Arts in Houston. After graduation, he studied music at New School University in Manhattan, where he worked with personalities such as bassist Christian McBride, saxophonist Kenny Garrett, and others. After graduating from college, Glasper worked with a variety of artists, including trumpeter Roy Hargrove, vocalist Carly Simon, and rapper Mos Def. Glasper released his debut album, Mood, on Fresh Sound New Talent in 2004. Canvas and In My Element followed in 2005 and 2007, respectively, on Blue Note Records.
In 2009, Glasper released the avant-garde album Double Booked, which contains a mix of modal post-bop with funky inserts, inspired by Herbie Hancock's music from the 1980s. Three years later, Robert Glasper Experiment, with many guest vocalists, released their first independent album, Black Radio, for Blue Note, which tried to blur the boundaries between jazz, hip-hop, R&B, and rock & roll. The album topped the jazz chart and won a Grammy Award for Best R&B Album. The following year, Robert Glasper Experiment returned with their second album, winning another Grammy, this time for Best Traditional R&B Performance for a cover of Stevie Wonder's "Jesus Children of America."
Together with bassist Archer and drummer Damion Reid, they recorded the album "Covered" live at Capitol Studios in 2015. The pre-release single from the album was a rendition of Radiohead's "Reckoner." It was released in April, followed by the album in June. Glasper also played on Kendrick Lamar's To Pimp a Butterfly and Maxwell's blackSUMMERS'night. For Don Cheadle's 2016 biographical film about Miles Davis, "Miles Ahead," the pianist curated the soundtrack and wrote the original music, which included contributions from Wayne Shorter, Herbie Hancock, and Gary Clark Jr. Glasper also recorded Everything's Beautiful, a tribute album to Davis, on the occasion of the trumpeter's 90th birthday.
---
DAVE BRUBECK (David Warren Brubeck)
Composer and American pianist, one of the most important representatives of cool jazz
(1920 – 2012)
---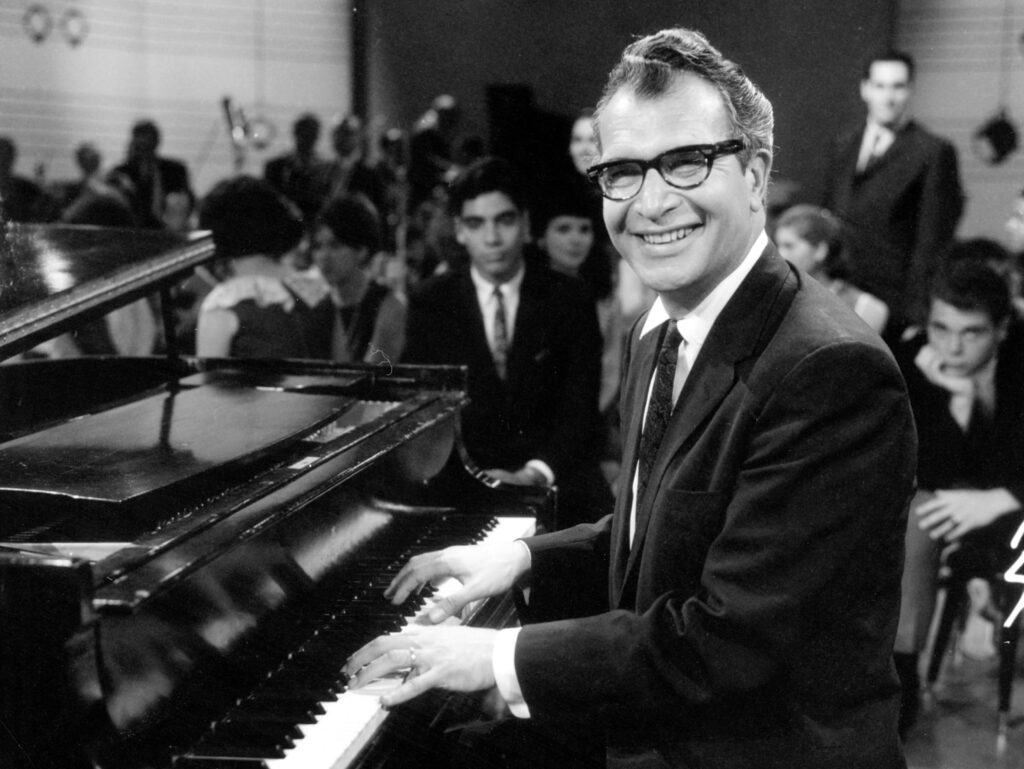 Brubeck began taking piano lessons at the age of four, showing a reluctance to learn how to read sheet music over time, but his natural inclination towards the keyboard and ability to pick up melodies by ear allowed him to keep this secret for many years. In his teenage years, Brubeck played with a local dance band in his spare time, but planned to pursue a more practical career in veterinary medicine. Even after enrolling at the College of the Pacific in Stockton, California, Brubeck continued to play piano in nightclubs to pay for his studies, and his enthusiasm for performance was so great that one of his professors suggested he would be better off studying music. Brubeck followed this advice and graduated in 1942, although several of his instructors were shocked to learn that he still did not know how to read sheet music.
In the 1950s and 1960s, few American jazz artists were as influential, and even fewer were as popular as Dave Brubeck. At a time when the "cool jazz" sounds of the West Coast were beginning to dominate the public image of jazz music, Brubeck demonstrated that there was an audience for this style far beyond the confines of the jazz community, and through his emphasis on unusual time signatures and adventurous tonalities, Brubeck showed that ambitious and challenging music could still be accessible. While rock & roll was beginning to dominate the popular music landscape, Brubeck enjoyed one of the greatest commercial and critical successes, expanding the audience for jazz and making it fashionable among young people and students.
Perhaps the most honored jazz artist of his generation, Brubeck received awards from two sitting U.S. presidents – Bill Clinton awarded him the National Medal of Arts in 1994, and Barack Obama awarded him the Kennedy Center Honors in 2009. Brubeck also received a star on the Hollywood Walk of Fame, a Grammy Lifetime Achievement Award from the National Academy of Recording Arts and Sciences, the Smithsonian Medal, and honorary degrees from universities in five different countries.
---
KAMASI WASHINGTON
Saxofonist, composer, orchestra leader
42 years old
---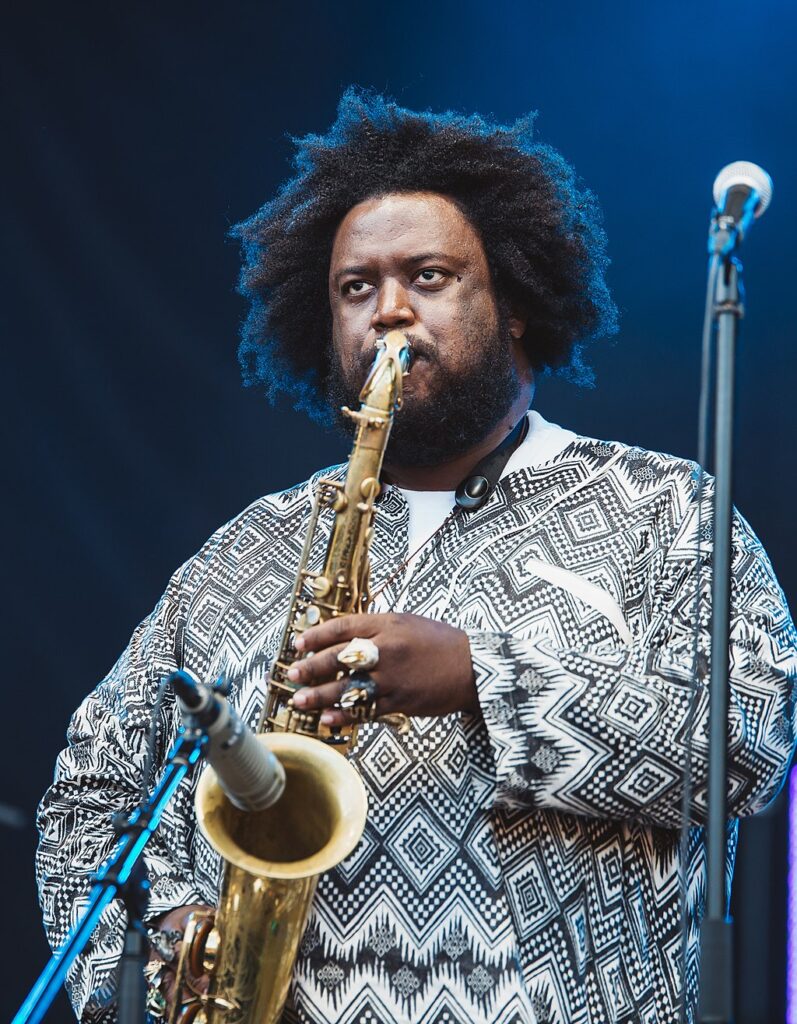 Washington was considered the future of new jazz with the release of his triple album "The Epic". His sound draws a very fine line between modal jazz and soul-jazz, funk, hip-hop, and electronic music. He only picked up the saxophone at the age of 13, but by then he was already playing several other instruments. It was then that he found his calling. In a few years, he became the principal tenor saxophonist at the Hamilton High School Music Academy in his hometown of Los Angeles. After graduation, he attended UCLA to study ethnomusicology. While at UCLA, he recorded an album with Young Jazz Giants, a quartet he formed with Cameron Graves and the Bruner brothers, Ronald Jr. and Stephen "Thundercat" Bruner, released in 2004.
From that point on, Washington continuously performed and recorded with an impressive variety of important artists from various genres, including Snoop Dogg, Raphael Saadiq, Gerald Wilson, McCoy Tyner, George Duke, and PJ Morton. He released a few albums of his own between 2005 and 2008, while also performing and recording with Throttle Elevator Music. In 2014, Washington made appearances on albums such as Broken Bells' "After the Disco", Harvey Mason's "Chameleon", Stanley Clarke's "Up", and Flying Lotus' "You're Dead!", among other albums covering indie rock, contemporary and progressive jazz, and experimental electronic music.
The following year, Washington contributed to Kendrick Lamar's "To Pimp a Butterfly" and released "The Epic" on Flying Lotus' Brainfeeder label, an expansive triple album with a duration of nearly three hours, which reached number three on Billboard's jazz chart.
Published in September, "Harmony of Difference" explored the philosophical possibilities of counterpoint. Composed as a suite, it contains five distinct movements and a sixth, "Truth", as a finale that incorporates principles and themes from the previous ones. Washington returned in 2018 with the double-length album "Heaven & Earth", which included contributions from Thundercat, Patrice Quinn, and Miles Mosley, and the singles "Fists of Fury" and "The Space Travelers" were released in advance. Two years later, Washington returned with "Becoming", the original soundtrack to director Nadia Hallgren's documentary film accompanying Michelle Obama's 2018 memoir.
---
GREGORY PORTER
Singer, composer, actor
51 years old
---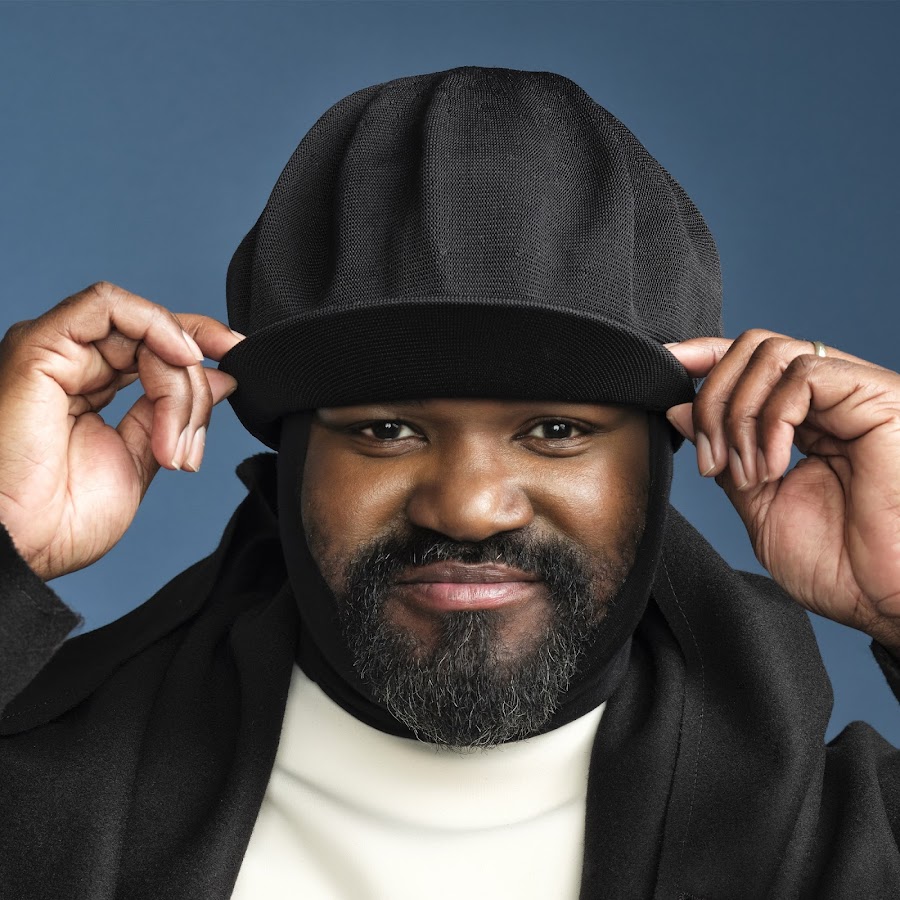 Born in Los Angeles in 1971, Porter grew up in Bakersfield, California where his mother was a preacher. Through his mother's record collection, he fell under the spell of Nat King Cole, learning early on how to imitate him. In addition to singing, he was also a talented athlete, leaving high school with a sports scholarship as a football player at San Diego State University. However, after a shoulder injury derailed his sports career, he moved to Brooklyn where he worked as a day chef while singing in local jazz clubs. It was during this period that he met saxophonist, composer, and pianist Kamau Kenyatta.
In 2010, Porter released his debut album, "Water," on Motéma Music. A huge success, the album won a Grammy Award for Best Jazz Vocal Album. Two years later, his second album, "Be Good," further showcased Porter's growing confidence. Known for his warm baritone voice, Porter became famous for his jazz, soul, and gospel-influenced style, often compared to his idols Nat King Cole, Donny Hathaway, and Stevie Wonder.
In September 2013, Porter released his third album on Blue Note, "Liquid Spirit." Produced by Brian Bacchus, the record was a huge success, reaching No. 2 on the Billboard Top Jazz Albums and winning the 2014 Grammy Award for Best Jazz Vocal Album. It also became one of the most-streamed jazz albums of all time, with over 20 million streams. While his own compositions are his primary focus, Porter often returns to his roots, as demonstrated by his tribute album "Nat King Cole & Me" in 2017.
Photo sources: Wikipedia